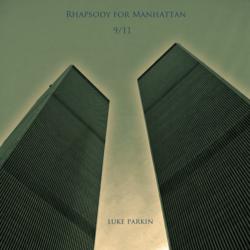 (PRWEB) September 11, 2011
Luke Parkin's Rhapsody for Manhattan 9/11 may be the last in a series of many serious musical tributes to be announced in honor of the ten-year anniversary. The event, now nearly a decade on, has inspired many writers and composers to memorialize the disasters in New York and Washington D.C. in very personal and many times provocative ways. Rock stars and entertainers like Melissa Etheridge, Paul McCartney and Neil Young, to name just a few, have also added to the canon. So have well known composers of so-called "serious music" such as Steve Reich and John Adams.
"Even so, 9/11 is still a tinderbox. The late Karlheinz Stockhausen found that out after having shocked and incensed millions with very offbeat remarks on September 11 as a kind of work of art. Suffice it to say that there has been an affluence of well-intentioned and sometimes misunderstood artistic statements about that Tuesday morning in September and the artistic declarations are not limited to any particular art form. In 2010 the film Remember Me starring Robert Pattinson was called offensive and was universally panned by critics. The subject is touchy and for good reason," said Luke Parkin.
Many things about 9/11 remain a lightning rod for criticism and condemnation. The last decade has produced a dizzying collection of online rants in the tens of thousands — commentaries, debates, and amateur documentaries dedicated to the discussion of 9/11— content ranging from mild to wildly bizarre including an entire underground movement devoted to a host of colorful conspiracy theories and ulterior motives about the events.
The composer of Rhapsody for Manhattan, a 32 year-old prolific composer of New Classical and Electronic music has no such designs on controversy. From his home in West Palm Beach, Florida where he has recently relocated he writes, "I've slept on this piece in various forms for months and only recently rendered the piece finished. I finally had to abandon it, though I was satisfied in the end. Nonetheless I was so fatigued with years of dialogue especially the toxic narrative of bizarre notions and conspiracies as to how the prior government was allegedly complicit in the attacks, and so on and so forth, that I wondered whether there was a proper context whereby I could finish this piece and not be wronged in some way. As it finally took shape, I wondered if in eleven minutes and fifty-seven seconds, the music might help to heal or perhaps take people away from the original sentiment of the day, those things we've seen and heard too many times. I was asked by someone having just heard the piece, 'when do we hear the sound of the buildings crashing down?' The thought of making the music somehow programmatic was insane. The thought makes me cringe. After so much consideration, I'd like to think that my intentions for writing it were reasonably pure. Something to heal by. Music has that power.Sadly, Rhapsody for Manhattan for orchestra belongs in a particularly sad chapter of the American songbook."
###