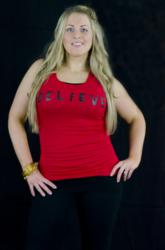 "I love doing JNL Fusion, because the weight loss results are amazing. Im also proud to be chosen by the fitness industry's biggest mover and shaker, Jennifer Nicole Lee." The AlliB.
Portland, Oregon (PRWEB) September 06, 2011
We get a glimpse into this exciting documentary and also her normal, everyday, wife and mother, friend and family life, by watching her train her clients in the both classical Pilates and the J NL Fusion Method. You won't want to miss a very special episode where there is a family emergency due to the death of her godchildren's great-grandmother and how she is available to watch them AND enlists them into the JNL Jr. Army. TheAlliB. proves that there are really, truly no excuses in life because LIFE happens. She believes that you have to know how to roll with the changes and that's easy to do when you feel great and healthy. She also shows you how an unexpected tragedy can be used to keep up morale and keep your mind in a positive mind frame during a time of crisis. Even though this event totally changed her day, she was fine because she was prepared by using the guidelines and food plans included with the JNL DVD's, so she was not only prepared to help herself and her clients she was able to help her family too and still tape her work out.
In the next 6 weeks TheAlliB. will be reviewing and commenting on JNL books, other JNL work out videos, JNL Fusion Modifications, and the Fitness Model Diet Plan, as well as her experience with being chosen to represent one of the biggest movers-n-shakers in the Fitness Industry the fabulous Jennifer Nicole Lee. She'll be sharing her thoughts on being in the JNL DVD's that are soon to be released globally later on this year.
When asking TheAlliB. what has been the hardest part of this challenge she replied, "Nothing! I absolutely love doing Fusion because the results are amazing!" She is excited to see what the next 6 weeks hold. She is leaner and so much more productive with all the energy the JNL Fusion Method and DVD's have given her.
TheAlliB. is very honored to be asked to be a Keynote Speaker at JNL's Worldwide Conference and JNL Fusion Method Fitness Revival and Master Certification Retreat happening January 2012 in beautiful Miami, Florida. For more information on the conference: http://www.JNLFusion.net
###