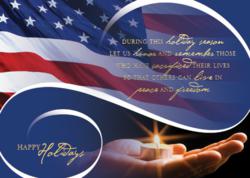 We anticipate 2011 being a strong year for patriotic cards as the country recognizes the 10th Anniversary of 9/11.
Oak Hill, VA (PRWEB) September 07, 2011
Design Crafters reminds our country that Patriotic Christmas Cards never existed before 9/11/2011. In fact, they state that the production of patriotic Christmas cards combining the theme of patriotism along with a Christmas message was never considered by Christmas card manufacturers prior to 9/11. Patriotism was traditionally celebrated on Memorial Day and the Fourth of July. Christmas was usually reserved for the celebration of the birth of Christ and the spirit of giving.
Design Crafters, a prominent online Christmas card distributor, noticed that calls started pouring in immediately after 9/11/2001 asking for patriotic Christmas cards. They did have one White House card, which has a flag on the top of it, which surprisingly, because of the flag, started to sell in large volumes. They did have a set of patriotic note cards and selected one to enlarge and offered it as a Patriotic Christmas card. It was a collage of the US Capitol dome, the Lincoln Memorial, and the Washington Monument with the American flag as a watermark in the background in the sky. They enlarged it and added "God Bless America" in the top right corner of the sky.
They acted quickly to add this patriotic Christmas card to their website within a couple of days and sold many. Shortly thereafter, the mainline manufacturers were able to pull together some images and they also started offering patriotic Christmas cards. What's amazing is that now patriotic Christmas cards are commonplace, and are offered every year along with traditional Christmas cards. Every year the patriotic Christmas card selection improves and grows. There has even been the addition of Thanksgiving cards now that include an American Flag.
As quoted by Jason Evans, the General Manager of Birchcraft Studios, a national supplier of Holiday Cards, "We anticipate 2011 being a strong year for patriotic cards as the country recognizes the 10th Anniversary of 9/11. Patriotic themed Holiday Cards were very strong in the years immediately following 9/11 and as this anniversary gets closer, we have had an increase in requests for cards designed with patriotic themes. As a result, our 2011 line does contain more patriotic options. We at Birchcraft feel that this year, more than any time in the last decade, people will want to show pride for our country by sending a patriotic card or using patriotic language in their personalized sentiment."
Design Crafters believes that the threat of terrorism can generate some fear and result in security practices that limit freedom; however, nothing can take away the love of a country and national pride. Even though issues and struggles may occasionally divide people as a nation, there remains a unity of sentiment that there is no other place to be.
The words of the last two stanzas of America the Beautiful still ring true even in our greeting cards – "O beautiful for patriot dream that sees beyond the years. Thine alabaster cities gleam undimmed by human tears. America! America! God shed His grace on thee. And crown the good with brotherhood from sea to shining sea."
Even if one has never be so inclined as to send Patriotic Christmas Cards in the past, this would be the perfect time to like to take advantage of this unique opportunity on the 10th anniversary of 9/11 to do so. Washington DC Christmas cards of the nation's capitol, the White House and various monuments, have also been considered patriotic by many as they represent the strength of our Nation.
Debby Sibert, Founder of Design Crafters has been serving the nation by providing a large selection of customizable, personalized Christmas card of all varieties online since 1996 so she has seen many trends come and go and this trend regarding the rising popularity of patriotic Christmas cards is definitely worth noting.
###