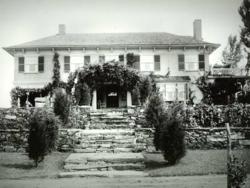 (PRWEB) September 07, 2011
Fairfield Auction will sell hundreds of items, undisturbed for decades, from the estate of artist Louis David Vaillant (1875-1944) at their gallery September 18th. Situated on 31 acres in Washington, Connecticut the vast estate, designed by famed architect Ehrich Rossiter, had been used sparingly as a summer retreat by the family, but over the years had fallen into disrepair, with trees and shrubs taking over walkways and ivy covering the front of the historic residence. Having recently sold the real estate, the family commissioned Fairfield Auction of Monroe, Connecticut to empty the attic, closets and bedrooms of hundreds of French and Italian antiques and artifacts of the wealthy turn-of-the-century family, as well as paintings and sculpture by the artist in residence, Louis David Vaillant.
Vaillant studied with Henry Siddons Mowbray, also of Washington, who executed the ceiling mural for The Gunn Memorial Library in town and counted among his clients J.P. Morgan and the Vanderbilts.
Among the highlights of the sale are a Fauvist still life oil painting by Jan Sluitjers expected to bring at least $60,000, a rare suite of French Empire furniture, a large English sterling serving tray dating to 1825 and weighing over fourteen pounds, a Tiffany Studios desk lamp, a vintage Louis Vuitton wardrobe trunk and a Patek Phillipe gold wrist watch.
The auction will take place at Fairfield Auction September 18th beginning at 11am. Viewing is available Saturday 11am to 4pm and auction day 9am-11am.
Fairfield Auction is located at 707 Main Street, Monroe, Connecticut and can be contacted at (203) 880-5200 or online at http://www.fairfieldauction.com.
###