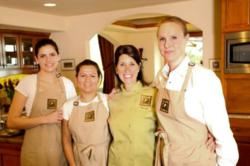 San Diego, CA (PRWEB) September 13, 2011
Jodi Abel, founder and owner of LaJollacooks4u, is not your typical entrepreneurial success story; it's hard to generate yearly growth without an advertising budget, but this is one business offering a gourmet cooking and dining experience that is bucking the trend in a competitive market.
Being the first of its kind to open in La Jolla in 2008 has helped build Lajollacooks4u as the number one rated attraction in La Jolla, according to TripAdivsor – the world's largest travel site. For Jodi Abel, the hard work, long hours and countless trips to the grocery stores and farmers' markets have paid off in many ways.
"This summer has been particularly rewarding for me on a number of levels," Abel said. "I've spent time in my kitchen with cancer survivors who have been an absolute inspiration to me and there have also been friendship reunions, corporate teambuilding events, birthdays, anniversaries and engagements."
For Abel, the idea to launch Lajollacooks4u came during a trip to Umbria, Italy in 2007 where she spent two days in a person's home learning to cook Umbrian style. Abel has come a long way since those early days and along the way, she's continued to pursue her love of simple, but elegant cooking by visiting with local cooks in countries such as South Africa, Spain and Italy. "For me it's about the love of food and people; the two are key ingredients for a memorable experience in the kitchen," Abel said. Abel added she's excited for what the future holds and is already planning for continued growth.
Lajollacooks4u, founded in 2008, provides an ideal activity for couples, corporate team building and any foodie looking for a cooking and culinary experience in an ideal setting overlooking the Pacific Ocean. Based in La Jolla, a suburb of San Diego, CA, Lajollacooks4u has enjoyed record growth since its inception and has been ranked the number one attraction in La Jolla on the popular travel review site, Trip Advisor. For more information, contact Jodi Abel at jodi(at)lajollacooks4u(dot)com or phone 1-858-752-4980
# # #