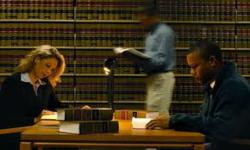 "We love the portability of the Book2new Spirit; we've been able to use it on every floor in the library, and we've had very positive feedback from our staff, who really appreciates its simple user interface," said Eric Young, Assistant Dean
Fort Lauderdal, FL (PRWEB) September 14, 2011
Established in 1974, the law school currently has about 1,200 students, and the law library houses about 300,000 volumes and has 23 staff members. With all of these moving parts, it was important to find a digital book scanner that was affordable, reliable and easy to use.
"We love the portability of the Book2net Spirit; we've been able to use it on every floor in the library, and we've had very positive feedback from our staff, who really appreciate its simple user interface," said Eric Young, assistant dean, Law Library and Technology Services, and assistant professor of Law, Nova Southeastern University Shepherd Broad Law Center.
The staff is primarily using the scanner for in-house archiving of books, papers and photographs and plans to roll it out for student use as well later this year.
"Considering the number of books and documents law schools and law students handle every day, we were very happy to bring the Book2net Spirit to Nova Southeastern, and to offer this time- and energy-saving solution," said Robb Richardson, President, Book2net, North American Operations.
The Book2net Spirit is the first entry-level high-resolution scanner designed for fast and simple public use, and it is very gentle on books and documents, making it the ideal option for delicate and old older books that need to be reproduced or archived.
In addition to Nova Southeastern University, Book2net technology is used in a variety of leading university libraries, including the Library of Congress, McGill University, Minnesota State University, University of Illinois, University of Oklahoma, University of Toronto, University of Virginia and many more.
About Ristech Company
Ristech Company is a leading distributor of document management and micrographics solutions for the Canadian and U.S. markets. Formed in 1995, we have built our name on a commitment to providing companies with leading-edge technology, convenient service offerings, and the expertise and knowledge required to support these technologies. For more information, please visit http://www.ristech.ca.
About book2net Inc.
book2net Inc. is an international alliance of manufacturers, libraries and service providers that design and produce book scanning technology. With an installed base of more than 500 clients including the Library of Congress, the British Library, National Archive of Sweden and many leading academic libraries in North America, book2net develops technology from the ground up with end users at the table. For more information, visit http://www.book2net.net.
# # #