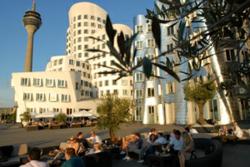 The highest number of hotel bookings in Düsseldorf's history.
Düsseldorf, Germany (PRWEB) September 06, 2011
Düsseldorf is more popular than ever and has the numbers to prove it. Not only did the city have the highest number of hotel bookings in its history in 2010 (3,587,588), but also the first 6 months of 2011 have already brought an amazing 14% increase (1,902,038) in hotel bookings compared to the same period last year. In fact, these numbers are already a new record, being the highest number of hotel bookings the city has every seen in any year's first six months. With several major events and trade shows scheduled for the second half of 2011, last year's more than 3.5 million hotel nights are likely to be surpassed, says the city's tourism office, Düsseldorf Marketing & Tourismus GmbH.
Apart from a steady increase in the city's popularity as a new leisure destination, often called Germany's "hidden gem destination," and an expanded global approach by the city's tourism office to promote it, two big events have put Düsseldorf on the path of record-breaking for 2 years in a row. The ESC, the "European Song Contest," one of the most-watched non-sporting events in the world, was held here in May, as well as "interpack," the world's leading trade show for the packaging industry. Upcoming events include 2 more global trade shows ("Rehacare" in September and "Medicare" in November, both medical care industry-related), as well as the outdoor festival Japan Day and the popular Christmas market.
Visits by travelers from outside of Germany made up 40% of the total nights booked (compared to the region's 18%). Besides the US, the countries with the highest increases include: UK (+12.7%), Netherlands (+ 8.7 %), and Russia (+38%). Some increases from European countries are linked to ESC attendance, and increases from non-European countries to several factors, most of all a growing international acceptance of Düsseldorf as a new destination for leisure travel. Says Dr. Eva-Maria Illigen-Guenther, the tourism office's CEO: "We are looking at the fruits of our increased marketing efforts in key markets like Russia and the US, plus the fact that a great destination simply keeps getting better."
For more information about Düsseldorf for leisure and business travel, visit http://www.visitduesseldorf.de
Düsseldorf Marketing & Tourism GmbH is the visitors and convention bureau of the city of Düsseldorf. Its responsibilities include tourism and city marketing, as well as conference and meeting marketing, hotel reservation services, fairs and convention services, city event ticket sales and advance ticket reservations. For more information, visit http://www.visitduesseldorf.de.
Düsseldorf International Airport, Germany's third largest, offers several non-stop flights from US & Canadian cities (Atlanta, Chicago, Ft. Myers, Los Angeles, Miami, New York, Newark, Toronto, San Francisco, Vancouver), as well as convenient connections to many European cities. For more information about the airport, visit http://www.fly2dus.com.
###