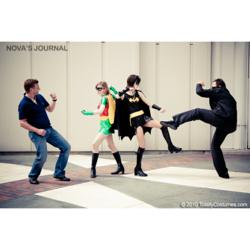 One of the new collections they are most excited to reveal is their women superhero costumes.
Mancos, CO (PRWEB) September 06, 2011
A large variety of superhero costumes are arriving daily at TotallyCostumes.com. They are confident that it will be a best selling category for the Halloween season with so many new and upcoming superhero movies and the growing popularity of the comic book hero characters. Their selection of superhero costumes include a Iron Man, Kick-Ass, Superman, Captain America, Batman, Spider-Man, Green Lantern, Wonder Woman and everything in between.
Superhero costumes continue to make their mark at costume conventions such as Comic-Con and DragonCon. TotallyCostumes.com has expanded its selection to include revamped characters and sleek new designs including female versions with the rise of superhero costume trends in social media. This trend is sure to only grow in popularity with upcoming superhero films for 2012 and 2013 to include Batman: The Dark Knight Rises, The Amazing Spider-Man, The Avengers, Wonder Woman and Superman: Man of Steel.
One of the new collections they are most excited to reveal is their women superhero costumes. The female versions of their male counterparts are sassy and full of confidence. The female superhero costumes include a women's Thor costume, Side Kick Robin, Caped Crusader, Captain America, Teenage Mutant Ninja Turtle, Green Hornet and Green Lantern costumes. Revamped styles of superhero costumes for women will include the Ame-Comi collection which is anime styles of Catwoman, Wonder Woman and Supergirl. New sexy superhero costumes for 2011 include corset and mini skirt styles.
The kid's superhero costumes at TotallyCostumes.com are nothing short of spectacular with the large variety of comic book and movie characters at competitive pricing. The superhero child costumes include new and old characters with plenty of Marvel superhero costumes for young comic book fans. New styles television series include Young Justice and Batman: The Brave & The Bold styles. Superhero costumes for kids are great for Halloween and imaginative dress-up play.
Batman costumes continue to be a popular choice amongst adults and kids since the release of the Batman Begins and The Dark Knight films starring Christian Bale as Bruce Wayne. The large selection of Batman costumes for toddlers, kids, teens and adults at TotallyCostumes.com include officially licensed styles from the animated cartoon series, original movies and the newest films. Supporting characters such as Sidekick Robin, Batgirl and the mischievous villain The Joker costumes can also be found in their selection.
About the Company:
TotallyCostumes.com, a leading retailer of superhero costumes and costume accessories for all occasions, makes sure the party never stops! This e-commerce costume retailer believes in carrying a large selection of high quality costumes in all sizes, styles and themes to fulfill any party, costume or event requirement. They have a dynamic team that works together so their customers receive their order quickly. Their friendly customer care team is dedicated to providing their customers with diligent service while their shipping facilities work efficiently in shipping your order out as quickly as possible.
###