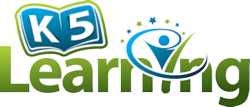 "We recognize that time is precious, and we have designed K5 to be a practical tool for busy families," says Asa Zanatta, Chief Mom Officer, K5 Learning.
Vancouver, BC (PRWEB) September 06, 2011
K5 learning today launches its online enrichment program in reading and math for kids in kindergarten to Grade 5. K5 Learning is a new kind of online study program that delivers personalized learning in bite-size chunks to kids in the comfort of their own homes.
Parents that sign up receive a 14-day free trial and free reading and math assessments of their children's abilities in eight sub-skills. Using the results as a starting point, K5 Learning's program allows each child to work at their individual skill levels and at their own pace through over 3,000 animated and interactive tutorials. Kids work independently and parents receive progress reports.
"The importance of developing strong reading and math skills at an early age cannot be overstated," comments Asa Zanatta, Chief Mom Offer, K5 Learning. "However, we recognize that time is precious, and we have designed K5 to be a practical tool for busy families. K5 automatically selects and presents lessons to children based on their initial assessment and the activities they have progressed through. Even 4 year olds can work independently with K5, receiving award winning lessons in a structured environment with minimal supervision."
K5 Learning deals with the pain points parents face when looking for supplementary learning tools, including:

The lack of structure on education websites that requires parents to constantly organize and supervise studying.
The emphasis on entertainment over education in game-based education programs.
The cost and inconvenience of individual tutoring and after-school study centres.
K5 includes four curricula based programs with interactive tutorials, activities and quizzes that are aligned with national standards:

K5 Reading helps kids become strong readers. The program covers phonics, phonemic awareness, sight words, vocabulary and reading comprehension.
K5 Math builds a deep understanding of math concepts. The program covers numbers and operations, geometry, measurement (including time and money) and algebraic thinking.
K5 Spelling is an advanced vocabulary program which improves language skills one word at a time. It features adaptive instruction, automatic word generation and a 150,000+ word database.
K5 Math Facts helps kids develop instant recall of basic addition, subtraction, multiplication and division facts. Progress on each and every math fact is monitored until mastery is obtained.
K5 Learning's programs follow a number of principles that are key to its success. They follow:

A linear teaching approach – ensuring that learning progress is made in a logical fashion. Kids cannot repeat fun activities or try activities that are too hard.
The interface and instructions are easy to use and follow for children of all ages.
Tutorials, activities and quizzes are brought to kids in bite-size chunks. Research shows that "little and often" helps children commit learning to long-term memory.
Adaptive technologies that benchmark and track each individual child's level and progress. Kids don't repeat activities they perform well at and do repeat activities that they don't do well at.
As part of its launch, K5 Learning is offering parents a 14-day free trial and free assessments in eight sub-skill levels in reading and math.
About K5 Learning
K5 Learning was founded by parents who wanted better learning tools available to their kids for home use. The best software was marketed to schools, not parents. In 2011, we licensed the very best reading and math software from leading U.S. education companies, exclusively for home use.
K5 Learning is formed from the combination of this award winning software. We believe K5 provides the best home use elementary school learning platform in North America.
###