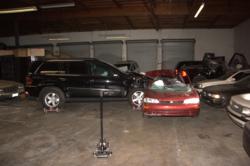 The impact killed eleven (11) year old Taylor Holman.
Santa Ana, CA (PRWEB) September 12, 2011
Attorney Alex Galindo with the law offices of Curd, Galindo & Smith, LLP has filed suit, on behalf of his client, Vicki Renteria, in Orange County Superior Court Case No.: 30-2010-00354957.
Mr. Galindo's client, the Plaintiff Vicki Renteria, alleges in her lawsuit for wrongful death that the driver of a 2008 Mercedes Benz SUV, Teresa O'Brien of Newport Beach, California was the cause of the fatal collision. Court documents state that the subject case arises from a fatal automobile accident that occurred on March 20, 2008. On that day, the Plaintiff Vicki Renteria alleges that she was traveling north bound on Harbor Blvd in the City of Santa Ana in her 1995 GEO. In the passenger seat was her eleven (11) year old daughter, Taylor Holman. Plaintiff Renteria intended to turn left onto Garry Street therefore she entered the left turn pocket and proceeded to yield to the south bound Harbor Blvd traffic. Renteria contends that she noticed that the south bound Harbor Blvd traffic was clear and she began her left turn, she traversed the number one lane of south bound Harbor Blvd. Renteria believed the Defendant's vehicle was 20 car lengths away when she began to make her left turn. The GEO's passenger side was impacted by the 2008 Mercedes Benz SUV that was traveling south bound in the number two lane of Harbor Blvd. The impact killed eleven (11) year old Taylor Holman.
Mr. Galindo, on behalf of his client, argues in court documents that the defendant Teresa O'Brien failed to comply with California, Vehicle Code section 21801(b). Section 21801 governs the respective duties of drivers of left-turning vehicles and those of approaching vehicles. That statute imposes upon the left-turning driver the duty to ascertain, before proceeding across each successive lane of oncoming traffic, if any approaching vehicle constitutes a hazard. Pursuant to subdivision (b) of section 21801, the burden then shifts to oncoming traffic to yield the right-of-way to the left-turning driver only where the left-turning driver has complied with section 21801, subdivision (a).
Renteria's lawsuit alleges that the driver of the Mercedes benz SUV failed to yield to the left-turning GEO driven by Renteria. Renteria is seeking general and compensatory damages in an amount to be proven at trial for loss of love and affection of her daughter.
Judge Gregory Munoz is expected to set a jury trial date on October 25, 2011.
CURD, GALINDO & SMITH, LLP keep up on all their cases and follow them on Facebook.
CURD, GALINDO & SMITH, LLP is a full service law firm that includes practice areas of bankruptcy, criminal law, estate planning, civil business litigation, personal injury, product liability and police misconduct. The firm represents both corporate and individual clients of all sizes and those who have been seriously injured or have lost a family member due to an accident, defective product, police misconduct or negligence. The law firm has recovered millions of dollars for its thousands of clients since 1995 by winning complex and challenging business disputes, death and injury cases involving police misconduct, traffic collisions, work place injuries and defective products, including defective automobiles, against some of the world's largest companies and governmental agencies.
###