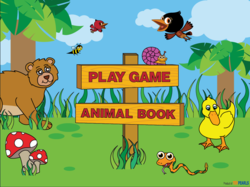 The motivation behind the Animal 101 mobile game came from real life experiences in teaching kids about animals in a fun and engaging way. It is an honor for TenPearls to have won 2nd prize and be recognized for Animal 101
Herndon, VA (PRWEB) September 08, 2011
TenPearls, a global application development company, won 2nd Prize for its mobile app, ANIMAL 101, in the Trivia and Education category of Nokia and AT&T's "Calling All Innovators 2011" mobile app and games contest. This is the second award TenPearls has received for its mobile apps within a year. The first award was the 1st prize that TenPearls received for the uTrack mobile app earlier in 2011.
ANIMAL 101 is a fun mobile game which provides an engaging way for children to learn about animals. This voice-driven, visually appealing mobile game allows two to seven year old kids to enjoy this learning game.
The Calling All Innovators 2011 global competition, presented by Nokia and AT&T encouraged app and game developers from around the world to submit mobile apps in 17 categories for a chance to share in a total of $10 million in cash and prizes. TenPearls competed against more than 800 entrants for top spots.
Second place winners in each category received a $50,000 cash prize. The Calling All Innovators 2011 Contest used a blend of consumer and expert judging to determine the category winners. The judging was based on total app downloads by consumers and sales totals in Nokia's Ovi Store.
The top 10 apps in each category (five paid apps and five free apps) advanced as category finalists and were then judged by an expert panel of judges from AT&T and Nokia. Nokia chose this blend of consumer and expert judging to help ensure that the best apps were not only the most popular apps but also provide the best user experience.
"Nokia continues to foster innovation within the developer community by sponsoring these exciting competitions at a global scale. Nokia's phones are excellent and continue to improve in terms of features and user experience," said Imran Aftab, President of TenPearls. "The motivation behind the Animal 101 mobile game came from real life experiences in teaching kids about animals in a fun and engaging way. It is an honor for TenPearls to have won 2nd prize and be recognized for Animal 101."
Animal 101 is available on multiple platforms and in multiple languages, including English, Chinese, Spanish and Indonesian. The game is available on both Nokia OVI and Apple's iTunes for the iPhone and iPad. More information about Animal 101 may be obtained on TenPearls website.
About TenPearls
TenPearls is an award-winning, global application development company helping businesses build products. We have successfully delivered solutions spanning mobile, enterprise, web, social media and games. Our technical strength combined with our experience in usability, agile requirements gathering, iterative development process and commitment to innovation allows us to successfully partner with our customers. Our diverse clientele include start-ups, small & medium sized companies and publicly-traded corporations. For more information, please visit the TenPearls website.
###