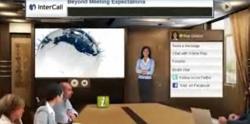 Chicago, IL (PRWEB) September 07, 2011
InterCall, the world's largest conferencing and collaboration services provider, will host a free live virtual event September 8 for marketing practitioners focused on engagement marketing. Industry experts will describe how virtual events foster two dimensional communications, enabling key audiences to participate, share and interact with a brand. Those in attendance will learn first-hand how organizations are leveraging virtual business environments to engage and connect with audiences around the world.
Title: "Engagement Marketing: Interrupt Less and Interact More with Virtual Events & Environments"
Date/Time: Thursday, Sept. 8 at 1pm EDT / 10am PDT
Registration: http://events.unisfair.com/index.jsp?eid=742&seid=200&code=pr
In this interactive session attendees will learn:

How organizations are lowering their cost per lead (CPL) and getting more qualified leads.
How organizations are expanding business into other geographies and catering to a global audience.
How leading organizations like Intuit, ACS (Xerox) and ASI are leveraging virtual events and environments to improve business
Attendees will hear from top industry leaders — Sharon Hudson, VP of Advertising & Events, MarketingProfs; Kent Tibbils, VP of Marketing, ASI; and Eric Vidal, Director of Product Marketing, InterCall — about the benefits of virtual event technology. Each attendee will also receive a free Frost & Sullivan white paper, which outlines how companies are leveraging virtual technologies to market, communicate and conduct business.
For more information, visit
http://events.unisfair.com/index.jsp?eid=742&seid=200&code=pr
About InterCall
InterCall, a subsidiary of West Corporation, is the largest conference and collaboration service provider in the world, and a leading provider of global cloud-based unified communications services. Founded in 1991, InterCall offers telephony, messaging, conferencing and collaboration tools for businesses of all sizes, from large global enterprises to small or regional companies. With a global footprint and broad service capabilities, InterCall's flexible models for hosted, managed and on-premises communications services help companies get the most out of their business processes.
InterCall's strong U.S. presence, including four call centers and 26 sales offices, is bolstered by operations in Canada, Mexico, Latin America, the Caribbean, the United Kingdom, Ireland, France, Germany, Australia, New Zealand, China, India, Hong Kong, Singapore and Japan. For more information, please visit http://www.intercall.com.
###