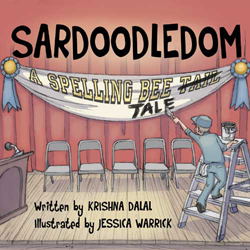 The author perfectly captures the atmosphere of a spelling bee.
Mill Valley, CA (PRWEB) September 07, 2011
With thousands of spellings bees being held annually in schools across the country, it comes as quite a surprise that no children's book captures the spirit of these popular competitions. First-time author Krishna Dalal changes that with her newly released Sardoodledom: A Spelling Bee Tale.
Sardoodledom follows Chloe, Ryan, Hannah, and Juan as they spell their way through their school spelling bee. Whether it's playing with rhyme, telling knock-knock jokes, or tackling homophones, these spellers provide learning and laughter. "Fantastically fun!" says Amy Lignor of Feathered Quill Book Reviews. "This book offers a very entertaining explanation of why the English language is the most difficult on the face of the Earth to learn!"
An increasing interest in spelling bees can be noted by such mediums as Academy Award nominated documentary, Spellbound, and Tony Award winning musical, "The 25th Annual Putnam County Spelling Bee." With the release of Sardoodledom, teachers and parents have another entertaining and educational tool to complement any child's spelling bee experience. "The author perfectly captures the atmosphere of a spelling bee," says BookPleasures reviewer Ekta Garg. "Young students will thoroughly enjoy the antics of the spellers and learn something in the process without even realizing it."
Author Krishna Dalal credits much of her love of words and literature to her numerous participation in spelling bees as a youth. An elementary school teacher by profession, Dalal is a resident of Mill Valley, where she lives with her husband and son. Jessica Warrick is a children's illustrator and cartoonist who creates digital art for websites, e-books, and traditional picture books.
Packed with memorable characters, humorous word play, and a surprise ending, this book is sure to be a hit with spelling bee enthusiasts of all ages. Sardoodledom: A Spelling Bee Tale (ISBN: 978-0-9833245-0-8) is available for purchase at Amazon.com and BarnesandNoble.com.
For more information, please call (415) 272-5069 or visit http://www.onewordpublishing.com.
###