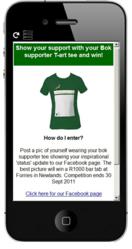 Imagine a free space to promote your business or to unite your colleagues with the exchange of 'walking' ideas.
(PRWEB) September 07, 2011
GraphicMail has nurtured the success of the T-art start-up by offering its marketing experience, technical support and tutorship as an email and mobile marketing service provider to help raise awareness about the product mainly through a targeted mobile marketing campaign and competition. GraphicMail is providing T-art with both a free mobile campaign and a free email marketing account as a platform for their communications.
The launch of the T-art mobile campaign has coincided with Mobile Marketing Week from 5 to 9 September, a global celebration of mobile advertising, marketing and media, running in many major capitals and commercial hubs worldwide. Having commenced on Friday the 2nd of September, GraphicMail is running a weekly mobile marketing campaign with T-art for the duration of the Rugby World Cup to help promote their Springbok Supporter competition in patronage of the national team. Participants become eligible for the grand prize by posting a picture of themselves wearing a T-art Springbok supporter shirt with an inspirational 'status' message written on it to the T-art Facebook fan page(accessible via the mobile news page or directly through a desktop browser) before the 30th of September.
The 2011 Rugby World Cup will be the largest sporting event ever held in New Zealand, with the organizers expecting over 95,000 international visitors to travel to the event, generating NZ$280 million in ticket sales. South Africa, which is a traditional stronghold, of the sport will provide a highly energized fanbase for the duration of the event for T-art to harvest mobile and email subscribers from to promote the popularity and sale of their product.
T-art was founded as a participating team in the J.P.Morgan Young Entrepreneurs Product Showcase at UCT; 'From 50 to Infinity', which saw eight student business, each starting with just ZAR50 capital, launch their original products into the South African Market - with the objective of defeating the previous record of ZAR200,000 profit raised within the period of year. Guests to this event were asked to imagine the possibilities for South Africa, if young entrepreneurs can learn to create wealth from just ZAR50, and what this would potentially mean for the youth of today and the development of South Africa as a brand.
The T-shirts have a white canvass text area placed on the torso where one can write or draw one's thoughts on, and then simply wipe off with a wet cloth once it's time for the next status update.
"This is an innovative and engaging form of interaction where quirky words, inspiring quotes, and sports scores can be written onto your t-shirt and easily wiped off at your convenience. Imagine a free space to promote your business or to unite your colleagues with the exchange of 'walking' ideas. Imagine a 'walking' white board that you can travel with where ever you are... the opportunities are limitless. We have created a unique product and a platform that allows you to express yourself and be your own 'brand'." Mark Gituma, T-art Financial Manager
As a business, T-art aims to ignite a creative expression that transcends culture and conventional social platforms:
"Instead of a traditionally emotionless promotional T-shirt; with T-art you are issuing an invitation to your team to interact with your brand, in a way that has meaning to them. Your company T-shirt is no longer just a T-shirt but now a high impact interactive internal marketing vehicle. Gone are the days of one-way-marketing; interaction, feedback and customization sketch the terrain of our new operating landscape. T-art is at the forefront of this change. Our T-shirts provide a great means for your company to promote customer interaction and lead to authentic customer engagement." Nzeka Biyela, T-art Marketing Manager.
# # #