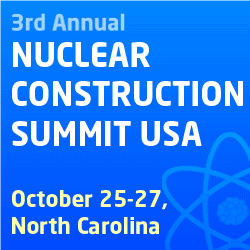 (PRWEB) September 08, 2011
With construction preparation at VC Summer, Vogtle and Darlington pushing forward, the industry is watching tentatively, waiting to hear the results from these new build projects. Nuclear Energy Insider asked Mr Plisco (Owner, Plisco Consulting LLC) where he saw the new build side of the nuclear industry in North America and worldwide in 10 years and what developments need to occur in this time to ensure construction success, according to sources at Nuclear Energy Insider.
Mr Plisco stated, "In North America, there will be significant pressure on the front-runners to be successful. Those waiting in the wings are watching closely for clear signals that demonstrate that it is safe to jump into the water. The supply chain infrastructure also needs to get much stronger to support the demanding requirements for nuclear facility components.
Internationally, there is a lot of active construction activity, and I do hope that all involved parties can overcome any political, cultural, and business concerns that might inhibit the free flow of information about nuclear safety and construction issues. As we have seen in the past, and most recently in Japan, we all can be impacted by an issue or event that occurs anywhere in the world and information sharing is necessary for long-term success."
With the industry watching anxiously, Nuclear Energy Insider asked how the new build frontrunners will ensure success with their new build projects and Plisco said, "To be quite honest, I believe that success in these projects is going to simply come from strong leadership, rigorous planning and vigorous oversight, comprehensive programs and processes, and good communications. Success will be the outcome of good old hard work – there are no secret weapons or short cuts in this business."
Loren Plisco will join the Key NNB Projects and Lessons Learned Panel at the 3rd Annual Nuclear Construction Summit in Charlotte NC on 25-27 October. For more information about the conference, please download the conference brochure: http://www.nuclearenergyinsider.com/nuclear-construction-summit/download-brochure.shtml?utm_source=PRWeb&utm_medium=0609&utm_campaign=1860
Or alternatively contact Dean Murphy on +44 (0) 207 375 7204 or dmurphy(at)eyeforenergy(dot)com
###