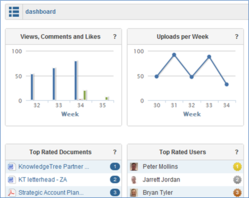 The result: $30,000 to $50,000 in additional revenue recovered per month.
(PRWEB) September 07, 2011
Every day thousands of business-critical documents are thrown into a file sharing black hole. Never to be seen, revised, or used again. That means sales people serve stale datasheets. Finance teams work with outdated models. Project teams can't find best practice proposals. And legal teams are slow to approve contracts.
No wonder AIIM research(1) found that 45% of enterprises are driven to manage documents because of efficiency losses. We can't let this productivity drain go on. Organizations need to get smart about the documents that run their businesses.
KnowledgeTree stops the document black hole. Our new tools shine a light on documents and make them matter again:

Smart Analytics locate document gems that you and your colleagues need. Insights and dashboards put useful documents in context, front-and-center to boost team productivity.
Smart Trends highlight how documents can be improved and managed. That means that document quality rises and stalled approvals evaporate.
Smart Feeds keep team members engaged and on top of changing documents. The document black hole vanishes and you can work smarter with colleagues.
Plus, revamped Smart Tools streamline document-led business activities. Volunteers of America (VOA) Chesapeake used KnowledgeTree to get insight and control over its documents. The result: $30,000 to $50,000 in additional revenue recovered per month.
"KnowledgeTree helped enhance control and productivity for a critical business process," said Shyam Desigan, Chief Financial Officer of VOA Chesapeake. "It is simple to deploy, but offers powerful, customizable business tools like Smart Processes. That's why KnowledgeTree generated returns on our investment dozens of times over right out of the gate. No wonder that we've extended our deployment across our entire organization. Now, Smart Insights into documents will be critical to help locate content that matters and continue to streamline our business processes."
Download the VOA Chesapeake case study here.
"Documents are business assets – immense resources have been invested in finance, legal, and sales material," said Daniel Chalef, CEO of KnowledgeTree. "That value has to be harnessed. File sharing and overcomplicated content management tools aren't the answer. Companies need Smart Tools and Insights to uncover relevant documents in context and boost employee productivity."
Find out how to work with documents smarter with the complimentary eBook "Make Documents Matter".
Tweetables
About KnowledgeTree
KnowledgeTree makes documents matter. Orbitz, Miramax, Alcatel / Genesys, Fuji Chemical, and hundreds of other companies use KnowledgeTree to drive productivity by working smarter with documents. KnowledgeTree helps legal, finance, HR, and sales teams easily develop and execute business processes around documents, and drive productivity and actionable insight. KnowledgeTree is headquartered in Raleigh, NC. Find out why Network World called KnowledgeTree one of the 10 SaaS companies to watch. Visit http://www.knowledgetree.com for more information.
Smart Analytics
KnowledgeTree's Smart Analytics help you find content that matters to you. Our algorithm-driven analytics discover documents that your colleagues value. That means that useful documents and best practice content get surfaced to you and your colleagues.
Plus, it's easy to identify important documents for your colleagues. Say you've found a sales proposal template valuable; you can simply "like" it. That makes it instantly more visible and accessible to your colleagues, helping to reinforce best practices and best documents.
Smart Trends
Your documents drive business processes. So, you have to manage your documents from creation to completion, and beyond. Simple file sharing can't do that. That means you need to know whether colleagues are viewing, downloading, reviewing, commenting on, and approving your documents.
KnowledgeTree's Smart Dashboards make it easy to manage your documents. You can spot where users are focused, and put more effort into creating the right kinds of documents. And you can quickly see which documents are getting worked on, and which could be delayed. That means you can manage resources better and get more productivity out of your documents.
Smart Feeds
Your team builds new contracts, presentations, invoices, and other documents constantly. Is that new contract ready? Which documents are my team downloading? Is there a new version of the proposal template? You need an easy way to manage the change.
KnowledgeTree's Smart Feeds give you always-current insight into the latest document updates in your vault. Now you can instantly see interesting updates to documents that you are authorized to see. That means can quickly spot new document versions, and new recommendations from your colleagues.
Source (1): AIIM, "State of the ECM Industry 2011- How well is it meeting business needs?", http://www.aiim.org
# # #