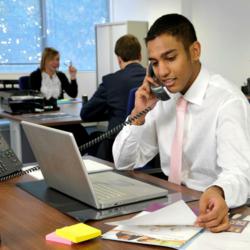 Open plan can allow for better communication and team spirit. Without closed doors or glass walls, communication and general office camaraderie can flow throughout the office resulting in a happier workforce and better internal communications
London, UK (PRWEB) September 16, 2011
Avanta, which is one of the leading suppliers of serviced office space in London, has witnessed a growing trend across its London business centres as occupiers increasingly opt for open plan office space.
New research by the British Council of Offices (BCO) also reveals that firms across London are shunning traditional modular office space in favour of open plan spaces to encourage staff interaction and knowledge sharing.
This trend, which the BCO believes is one of the most important shifts in office space usage in recent years, shows that open plan offices are fast becoming the most popular office space layout option.
"Open plan offices can allow for better communication and team spirit," comments Geraint Evans, Avanta's Sales & Marketing Director. "Without closed doors or glass walls, communication and general office camaraderie can flow throughout the office resulting in a happier workforce and better internal communications."
"Team spirit is naturally stronger as employees can easily ask neighbouring colleagues for help, or advice on different day to day problems and tasks. Employees can also be arranged into departmental 'pods' allowing easier information flow and supervision from managers"
"In addition to this, without the dividing walls, you can accommodate more employees resulting in less dead space. An open plan layout will also be more cost effective to heat and cool than individual offices, and most likely, will be lighter due to fewer internal walls blocking out the natural light".
Open plan also offers a blank canvas for any future changes to office layouts. Should, for any reason, there be a need to change layouts, the open plan style is more flexible and can be easily and cost effectively reconfigured to incorporate any changes needed.
Finally, an open plan layout encourages a far less hierarchical company structure, with all employees, no matter their position, working in the same room. Management offices can have a divisive influence over the rest of the work force and can prevent the ad hoc conversations and catch ups that are so beneficial to any business.
In addition to opting for more open-plan layouts, the BCO research highlighted an increase in the number of firms incorporating break-out space into their working environment to encourage staff members to socialise, network and interact while on breaks.
"The concept of a break-out area was non-existent 20 years ago," states Matt Oakley, chairman of the British Council for Offices' research committee, "But we are seeing more delivery of technology in these formal and informal working areas.
"A key purpose of the workplace is for sharing ideas including enhancing your product and service offerings, this won't happen by shutting people away."
All Avanta serviced office centres include break out space "We provide comfortable seating, refreshment points and TVs to provide an area where clients can relax, hold informal meetings or simply interact and network with other clients within a friendly atmosphere," adds Geraint Evans.
###