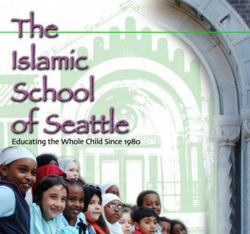 Seattle, WA (PRWEB) September 06, 2011
The Islamic School of Seattle has just hired a new School Director. Louis Tornillo brings to the school over 25 years of experience as a classroom teacher, curriculum developer and instructional leader in California public schools. He is committed to continuing the school's unique program, and to guiding its outstanding staff in fine-tuning the school's vision and outreach to the wider Seattle community. For over 30 years, ISS has provided a dual-language, child-centered education which develops community leaders proud of their Muslim identity but also ready to become global citizens of a wider world beyond the school community.
The quality of the education ISS offers is comparable to the best secular private schools in this area. Like them, Its program follows best practices in English literacy and most effective teaching strategies; unlike them ISS also believes that infusing Islamic values, history and spirituality gives its students a strong ethical foundation that will prepare them for the pressures of the modern world. And unlike other Islamic schools, the kind of teaching and learning which takes place here has a Montessori foundation, giving children opportunities to be creative, to express their uniqueness in project-based learning which is also rigorous and aligned with State standards.
The Montessori philosophy is based on profound respect for the child. Gentle guidance within a thoughtfully prepared environment allows children to grow and thrive naturally, by empowering them as learners making choices based on their needs and interests. Maria Montessori's research into how children learn, her emphasis on multi-age grouping, and her commitment to teaching for peace, are now accepted by many of today's influential educators. She was truly ahead of her time.
Finally, unlike public schools, ISS educates the whole child, in a nurturing but challenging atmosphere focused on each child's uniqueness as a learner. It is the synthesis of child-centered education with an Islamic point of view that makes ISS completely unique in on the West Coast. If you are dissatisfied with the education your child is getting, consider ISS as a quality alternative. Come and see for yourself! I guarantee you will be impressed!
Seattle Times latest article about the Islamic School of Seattle on Sep 3rd, 2011
For more information, please contact
pr(at)islamicschoolofseattle(dot)org
206-329-5735
Watch the video of the new director of the Islamic School of Seattle in Youtube.
###