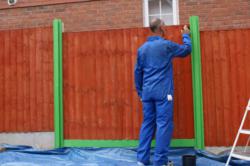 Ever struggled to remove fence panels prior to painting
(PRWEB UK) 19 September 2011
North West-based inventor and entrepreneur Mark Wheatley,has seen sales of his garden Fence Protector® rise by 40%,3 months after the launch of his online sales platform.
British entrepreneur Wheatley came up with the idea for his Fence Protector® after seeing his mother-in-law splash wood-stain all over his garden fence-posts.
"It wasn't her fault – she was doing her best to help us by painting the wood panels on our fence but, of course, some of the stain found its way onto the posts and, to be frank, it looked a bit of a mess aftwerwards.
"Even an expert would be hard-pressed to avoid this problem. That evening I was having a nice cup of tea, looking at the fence and thinking, how do you get round that?
"And then it came to me. Produce a set of water-tight plastic covers that will fit the posts and base gravel-boards.
It is a simple idea, but then all the best ideas are just that.I was really surprised that no-one else had thought of doing this already,but i looked into it for many months and no-one had."
It took time, effort and ingenuity to get the design right and to source the right materials,as well as to patent the product, but Mark says 'it was worth it'.
The end-result is inexpensive, re-useable, washable, and can speed up fence painting or staining work by at least 60%, saving time and labour - there is no need to clean off the posts and gravel-boards afterwards.
"I started selling the Fence Protector locally and it really took off, so I've launched a website and sales have increased by 40% in 3 months," added Mark.
For more information and order details, see http://www.fenceprotector.co.uk.
Payment methods include most major credit cards.
Order methods include: Online or by emailing mark@fenceprotector.co.uk, over the phone Mark Wheatley is available for interview – Tel (01492 440460 or 07706 410354
or email mark(at)fenceprotector(dot)co(dot)uk.
# # #