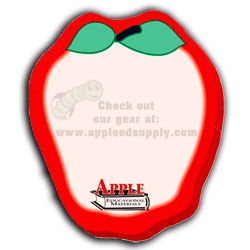 Essex, CT (PRWEB) September 08, 2011
Fall means fairs, festivals and food. Its harvest season for items like apples, corn and pumpkins and the promotional product experts at 4AllPromos has many ideas to keep its customer's healthy this fall.
It's true what they say, an apple a day can keep the doctor away. Research from the American Cancer Society suggests eating apples regularly can prevent colon, prostate and lung cancer. Apples contain antioxidants and a significant amount of fiber. Eating apples can also help with weight loss and lower the risk of heart disease. Apples are a popular ingredient at fall fairs and festivals. Apple crisp, apple fritters, apple donuts, apple pie or candy apples are just some of the ways to get a serving of the healthy fruit. Doctors, nutritionists, school nurses or teachers can help children and adults make healthy choices this fall by promoting the importance of apples with promotional products including sticky notes, jar openers, magnets or key chains.
Corn is another popular fall food staple. Corn on the cob, popcorn and kettle corn are just some of the delicious ways of the popular vegetable. Corn is a good source of Vitamins B, C and E as well as the minerals magnesium, iron and Zinc. Corn is also a very good source of fiber and eating it regularly can help prevent colon cancer. Fair organizers can remind visitors about the healthy benefits of corn by packing popcorn in custom imprinted recyclable bags complete with nutritional facts. The Champion Corn Butterer evenly spread on a light serving of butter to help make corn on the cob even more appetizing. Add spices or seasoned butter to spice up the savory side dish.
Another popular fall fruit is the pumpkin. Pumpkins can be used for pies and soups. The seeds can be seasoned and roasted for a healthy snack as well. Pumpkins also contain a lot of fiber and pumpkin seed oil helps to maintain healthy blood vessels and tissue. Carve a pumpkin for Halloween and save the seeds or innards to make a healthy snack.
Stay healthy this fall with in season fruits and vegetables. Promote businesses and healthy habits with kitchen items such as measuring cups to help with portion control, vegetable peelers or graters, potholders or spatulas. Lunch containers with separate compartments also make great giveaways. Healthy snacks and lunches can fit neatly into the compact containers.
4AllPromos has plenty of promotional products for the fall. Stay active with products such as pedometers, stress balls, Fribees, water bottles and more. Visit 4AllPromos.com to find the perfect promotional product for every fall, Halloween or healthy event.
###