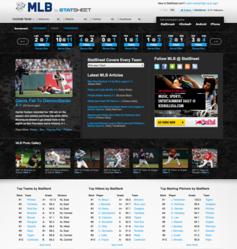 StatSheet is all about using technology to create smarter and more passionate fans
Durham, NC (PRWEB) September 06, 2011
Just in time for the September pennant races, StatSheet announced today the launch of its revolutionary, fully-automated, real-time coverage of Major League Baseball (MLB). Now hard-core and casual fans alike can enjoy comprehensive coverage of their favorite teams how and when they want it. Statsheet's coverage includes individual team sites, iPhone applications, Android applications, Facebook pages, Twitter accounts and e-mail newsletters for all 30 MLB teams, as well as a league-wide site at http://statsheet.com/mlb.
StatSheet's MLB coverage is powered by over 2 billion statistics and next-generation technology that provide unprecedented levels of insight and analysis. Each site includes Game Previews and Game Recaps that provide, for the first time, individual player grades for every game. Each site also includes other proprietary metrics like StatRank for players and teams. These metrics allow fans to immediately put the performance of their favorite players and teams into historical context with an intuitive system based on the US education system's five letter grading system and 100 point scale. For example, there are currently three MLB hitters whose season to-date performances merit an A+ (Ryan Braun, Jose Bautista and Matt Kemp with a 99.5, 98.4 and a 97.3 respectively). The lowest ranked hitter, who is on a pace to break the MLB record for the highest percentage of strikeouts per plate appearance, is Adam Dunn with a 58.5 (F).
Sports fans will also find play-by-play, live scoring, win-probability analysis, and other proprietary metrics like StatSheet's Fan Satisfaction Index that provides a measure of how fans feel about their team at any point in the season. In addition, each team site has its own Twitter handle that will broadcast scores and game-changing plays in real time.
In addition to insights and analysis, StatSheet's MLB coverage provides opportunities for fans to interact with the data. Whether it is StatSheet's Compare functionality that allows fans to compare the strengths and weaknesses of any team or player, or StatSheet's Embed functionality that allows fans to integrate historical or real-time stats, charts and other graphical elements into their own websites or blogs – the goal is the same. In the words of StatSheet's founder and CEO, Robbie Allen, "StatSheet is all about using technology to create smarter and more passionate fans."
With this launch, StatSheet also unveils a new design for http://www.StatSheet.com and their team sites (e.g. http://www.YanksPride.com or http://www.BoSoxBall.com). This design will be used in their upcoming NFL and college football coverage, as well as their NBA and college basketball offerings later this fall.
About StatSheet
Established in 2007, StatSheet is a technology company dedicated to creating smarter and more passionate fans. StatSheet's technology platform automatically transforms data into compelling narrative content (articles, summaries, headlines), visual displays (charts, tables and graphs) and interactive applications (mobile and Twitter/Facebook-based social applications). In essence, StatSheet uses technology to humanize big data, and automate knowledge and insight at scale. StatSheet's first vertical is sports, and the company currently provides comprehensive coverage of NCAA college basketball and Major League Baseball through its network of more than 375 team-centric sites. StatSheet's future plans include the rollout of similar sites to cover all college and professional sports. To learn more, visit http://www.StatSheet.com.
###