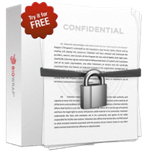 BIOWRAP stands apart from alternative encryption technologies by removing the complexities previously seen in secure file exchange solutions, while at the same time providing flexible and dynamic rights management.
- Lila Kee, GlobalSign
Lake Mary, Florida (PRWEB) September 08, 2011
NATION Technologies Group, Inc. (http://www.nationtechnologies.com) a leading provider of data protection services, today announced the release of a free version of their file encryption service, BIOWRAP®. This release will provide individual users with a free and easy to use solution to protect, track and manage all types of electronic information, at all times.
With increasing demands for the protection of electronic information and the need for user-friendly services, BIOWRAP has got it right! Until now, encryption has been very complex and difficult to use. The BIOWRAP user interface for creating secure files or accessing files is so simple to use that the user may never need to know what the word encryption means.
BIOWRAP encrypted files enable people and companies to easily share protected information to minimize the risk of unauthorized access and meet stringent information security requirements. Encrypted files are always protected, wherever the file(s) is located and however it may be delivered. Only those that meet the access requirements set by the user can gain access with all activity (including unauthorized access attempts) automatically tracked and recorded.
EASE-of-USE
No technical knowledge required and no costly IT involvement.
Simply register online for a free BIOWRAP account and start using.
No credit card or software download required.
CONTROLLED ACCESS
Specify precisely who is authorized to gain access to your protected files.
FREE and EASY ACCESS
Individuals that meet your security requirements can easily access encrypted files with any of the free BIOWRAP Readers, available as a website (https://mybiowrap.com) that requires no download or free Reader application.
TRACK
Create detailed Accountability Reports to track and manage all activity associated with your encrypted files.
REAL-TIME NOTIFICATIONS
Email notifications can be set per file to track all access activity, including unsuccessful attempts.
CONTROL THE LIFE
Set an access life for encrypted files with functionality to change the expiration of an active file, instantly expire active files to prevent access, and also reactivate expired files.
FILE CONFIRMATION
Free service to confirm that the original file removed from the protection of BIOWRAP has not been changed.
"BIOWRAP gets back to the basics of Information Security; who created the secure authoritative information and who has gained access, or even attempted access." said Stephen Nation, Founder, NATION Technologies. "The free version of BIOWRAP was released to address the growing consumer need to protect sensitive electronic information, our most vulnerable and sometimes most valuable asset."
For more information and to register for your free version of BIOWRAP, visit http://www.nationtechnologies.com/products.
About NATION Technologies Group, Inc.
NATION Technologies Group is a growing force in the Information Security industry that is revolutionizing how information should be protected. Their patented BIOWRAP® service instantly offers improved security and controls for all types of electronic information, at all times. Individuals and companies of all sizes now have solution to easily certify, protect, track and manage their most vulnerable asset, information.
Please visit http://www.nationtechnologies.com or contact sales@nationtechnologies.com for more information.
###