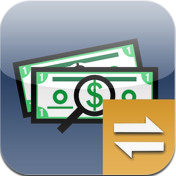 Truly a first of its kind, the Currency Banknotes app displays a total of nearly 1000 currency images, including rare and hard-to-find banknotes.
Los Angeles, CA (PRWEB) September 07, 2011
Currency Banknotes can convert currencies as quickly and easily as any other conversion app in the market. The kicker though, is the app's special feature that showcases banknote images together with the conversion rates. Truly a first of its kind, the Currency Banknotes app displays a total of nearly 1000 currency images, including rare and hard-to-find banknotes. Users can even zoom in and out of the images to see the paper bills in full detail.
TechiXoft CEO John Nicasio pointed out the lack of variety between other currency converters in the App Store. "They each have a different user interface, some of them have graphs, some convert more currencies than others, but Currency Banknotes is the only app that has detailed images of banknotes."
All the paper bill images are stored in the app's wide database, allowing users to swiftly browse through the Currency Banknotes gallery even without an Internet connection.
Another distinct feature of the app is its "Top 10 Currencies" tab, in which users will be able to instantly calculate the top 10 currencies of the world, all in one page. Instead of individually crunching the numbers for each of the 10 major currencies, the app simply computes everything with one tap of a button.
A Must-Have from the Finance Category
TechiXoft aims to make Currency Banknotes the go-to currency converter in the App Store. "We believe that it's an app that a lot of iPhone users will benefit from. After all, everyone needs a converter app in their phone," said Nicasio.
For Touring and Education
Currency Banknotes was also designed with the average traveler in mind. "I'm just your usual and regular tourist, and when it comes to a currency converter app, I don't need charts or graphs and whatnot, I just need a simple tool that I can use. Currency Banknotes is exactly that." He furthered that the app is ideal for travelers because it allows them to convert currencies while on the go, and also gives them the opportunity to familiarize themselves with foreign paper bills before or during their trip. The app's user interface is clean and straight-forward; and the CEO stated that it's precisely the app's "no frills" quality that makes it great.
Moreover, Currency Banknotes offers a unique opportunity for people to get a glimpse of foreign cultures. "The app gives users the chance to admire the architecture, people, and traditions of other nations. You can learn a lot about other countries simply by examining their paper bills," said Nicasio.
Going Beyond Travel and Finance
Nicasio stressed that Currency Banknotes can be used and enjoyed by practically anyone. The CEO mentioned, "It's not just for travelers or people keeping an eye on foreign currencies. The app has a wide gallery of paper bills that everyone, from students, to banknote collectors, to your average Joe can appreciate."
Sources and Acknowledgements
Aside from donations from friends, most of the banknote images were obtained from Banknotes.com, a popular banknote website owned and run by Audrius Tomonis. Banknotes.com is one of the most comprehensive websites for banknote collectors, primarily designed to engage individuals to learn more about collecting world paper money. According to Nicasio, "Audrius has really managed to create a good community for banknote collectors. We learned a lot from Banknotes.com, and we appreciate the help that the site has provided us."
As for the 150+ currencies, Nicasio stated that the data and capabilities of Currency Banknote's converter were pulled from the Yahoo! Finance API.
###