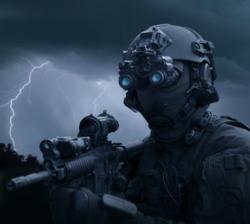 With the addition of rights-managed content we are now able to provide better solutions and more exclusivity options for our clients
Tampa, Florida (PRWEB) September 07, 2011
Stocktrek Images, the global leader in space and military imagery, has recently launched a new rights-managed image collection, further strengthening their commercial offering at stocktrekimages.com.
Stocktrek Images rights-managed collection launches with over 1,000 images, featuring bold and powerful imagery from world-class photographers and artists. The collection focuses on highly-detailed illustrative work of military aircraft and dinosaurs, along with high production value and premium quality photos of volcanic imagery and military special forces. New images will continue to be released every month.
The rights-managed licensing model offers our clients usage-based licensing combined with rights tracking and various forms of exclusivity options. Clients now have more control when licensing to ensure custom branding, and that an image is not used by a competitor.
"Given our niche subject matter here at Stocktrek, rights-managed imagery was an evident direction for us to develop in. Our royalty-free collection produces very well in the market, but with the addition of rights-managed content we are now able to provide better solutions and more exclusivity options for our clients," said Ryan Rossotto, President of Stocktrek Images.
With the launch of their rights-managed collection, in addition to an already extensive royalty-free collection, Stocktrek can provide clients with the licensing models they need for any project.
The new rights-managed collection is available on stocktrekimages.com, where clients can search, license and download images directly from the website. Stocktrek Images also provides competitive pricing and free research to clients.
Social Media
Stocktrek on Twitter: @StocktrekImages
Stocktrek on Facebook: StocktrekImages
About Stocktrek Images:
Stocktrek Images is a premier purveyor and distributor of powerful stock photography highlighting all facets of Earth, the Armed Forces, Space Exploration and Prehistoric Era content, with a special focus on unique images of military operations around the world and astronomical images of the universe. Stocktrek Images represents the work of talented photographers and digital artists from around the world.
# # #