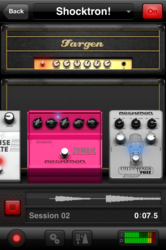 A marriage of our cutting edge guitar gear with AmpKit's amazing gear simulations allows an increasing crowd of iPhone and iPad users to tap into the Rocktron sound.
- Bob Waller
Battle Creek, Michigan (PRWEB) September 07, 2011
Rocktron, a longtime innovator in technology for guitarists, announced today that it has joined forces with Agile Partners, a leading developer of iOS guitar applications, to bring models of Rocktron's Zombie Rectified Distortion and Cottonmouth Fuzz pedals to AmpKit, Agile Partners' acclaimed guitar amps, effects and recording app for iPad, iPhone, and iPod touch. Modeled after the actual circuitry of the Rocktron pedals, AmpKit's simulations are faithful recreations of Rocktron's frequently groundbreaking technology that has ensured nearly a three decade run and countless international award-winning products under the Rocktron banner of guitar oriented electronics.
"Teaming up with Agile Partners to offer Rocktron tone, effects and innovation in their AmpKit app makes perfect sense for us," stated Rocktron Division President and General Manager, Bob Waller. "A marriage of our cutting edge guitar gear with AmpKit's amazing gear simulations allows an increasing crowd of iPhone and iPad users to tap into the Rocktron sound."
Two uniquely designed Rocktron pedals are available for purchase through the in-app Gear Store in the new AmpKit 1.2 release:
Rocktron's Zombie Rectified Distortion: The Zombie Rectified Distortion pedal in AmpKit is an accurate recreation of Rocktron's innovative circuitry while tapping into one of the heaviest Rocktron pedals ever created and a great choice for delivering rectified distortion. The onboard tone stack, Stare control (capable of adjusting the distortion's symmetry), gain and volume controls are all re-created in-app, providing a powerful and versatile tone tool that offers some of the heaviest tone possible in a pedal.
Rocktron Cottonmouth Fuzz: AmpKit users are big fans of fuzz and Rocktron's Cottonmouth Fuzz provides a boutique transistor fuzz sound with a wealth of modern, wide-reaching control options including Bite (pre-drive), Spit (duty cycle time), Strike (attack time) and Venom (sustain time). Also offered is a three-band tone stack with Bass, Mid, and Treble controls to provide even more tonal choice for the user. The Cottonmouth Fuzz is one of those classic Rocktron designs that marries retro sounds to a modern design, providing the best of both worlds.
Jack Ivers, a principal at Agile Partners, said, "We're really excited to partner with Rocktron and bring their great effects to iPhone and iPad users. The Zombie Rectified Distortion pedal has a really unique tone and is great fun to play in AmpKit. Likewise, the Cottonmouth Fuzz with its 8 separate tone controls brings AmpKit users a highly-flexible modern fuzz pedal. Distortion players are going to love these additions to the AmpKit Gear Store."
Both of the Rocktron pedals are part of the new Summer '11 Pack in the AmpKit Gear Store. This bundle is being offered at a special introductory price of $9.99, which represents a discount of over 80% off normal amp and pedal pricing.
AmpKit is available in two versions, AmpKit and AmpKit+, for free and US$19.99 respectively on the iTunes App Store. The new 1.2 release of the apps features next-generation tone and simulation improvements (e.g., dual-stage amp simulation, convolution-based cabinet simulation, adaptive input compensation, a significantly upgraded Noise Gate, solo and mix output shaping) that deliver by far the best-sounding, most realistic guitar tone on iOS. AmpKit's in-app Gear Store offers the largest gear selection of any amps and effects app, including 19 amps with 35 separate amp channels, 22 effects pedals, 20 cabinets, 8 mics and more gear on the way.
AmpKit LiNK, a high fidelity guitar interface, can be used to connect an electric guitar or bass directly into the headphone jack of an iPhone, iPad or iPod touch. It is the ideal companion to AmpKit, enabling the app to reproduce the tone of high-gain amplifiers. Together, AmpKit and AmpKit LiNK provide guitar and bass players with a powerful and convenient way to jam with high quality tones anytime and anywhere.
About Rocktron
Since 1983 Rocktron has created many innovative products for guitar players, including
the patented HUSH noise reduction, a myriad of DSP effects processors, switching systems, MIDI controllers, power amplifiers and stomp boxes. For more information, visit Rocktron.com
About Agile Partners
Agile Partners Technologies, LLC is a leading developer of applications for iPad, iPhone and iPod touch. Agile Partners' applications include the highly acclaimed GuitarToolkit and 2010 Apple Design Award winner TabToolkit. For more information, visit http://agilepartners.com.
Contacts:
Bob Waller
Rocktron Division President/GM
(Rocktron is a division of GHS Corporation)
Bob(at)rocktron(dot)com
Jack Ivers
Principal, Agile Partners
jack.ivers(at)agilepartners(dot)com
###