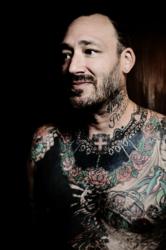 An artist, designer, writer, toy creator, media franchiser, filmmaker, Flowbot leader, & tattoo artist, JK5 defines creative divinity.
Teaneck, NJ (PRWEB) September 08, 2011
Joseph Ari Aloi, aka JK5 is a visionary. The worlds he creates as an illustrator touch the far reaches of the universe—accessing new languages and spirits. An artist, designer, writer, toy creator, media franchiser, filmmaker, Flowbot leader, & tattoo artist, JK5 defines creative divinity. In 1996 Aloi earned a BFA in Illustration from RISD, a year later he opened a custom tattoo studio in Pleasantville, New York, where he formulated his widely assimilated, organic, signature styles and approach to letterforms. A couple years later, Matt Clark, founder of the creative agency Houston, along with Aloi published "subconsciothesaurusnex," a book that documents Aloi's life and work from 1977-1999.
Brands, and advertising agencies alike have long understood the power in Aloi's visual language and ability to capture human connectivity. Collaborators include Nike, Kidrobot, Converse, Wieden Kennedy, Camel, Tylenol, Timex, Barneys, Surface to Air, Bblessing, Saks 5th Avenue, and Mishka NYC. Aloi has had the honor of showing his work across the globe. Gallery presentations include Deitch Projects, Laforet Gallery in Tokyo, and Alife NYC. He is currently creating new work for upcoming solo shows in New York City and Tokyo.
In collaboration with the late Heath Ledger's production company "We Are the Masses," Aloi is developing a media franchise encompassing feature films, childrens' television, video games, mobile applications, new media, clothing, books, and toys centered around the Flowbots, an archetypal band of fantastically mythological and heroic space adventuring characters produced by Kidrobot in 2007 and inspired, as is everything he does, by the nuclear reality and experience of Aloi's adoption, birthparent reunion, and artistic realization.
Aloi continues to build JK5 into a multi-media global brand of vision, inspiration, and communication, while relentlessly expanding his personal yet universal pastiche of visual, textual, and iconographic layering and language. For 5 years, Aloi worked at the world renowned Saved Tattoo in Williamsburg, Brooklyn, and just last year moved to the classic, legendary Daredevil tattoo in Manhattan's lower east side. The change has afforded Aloi the ability to tattoo less and focus more on personal work for shows, all new commercial and design opportunities, toy and collaborative ventures, building the Flowbot Transmedia project, and 2 books (one of which he curated and authored featuring 26 of the worlds most inventive, multidisciplinary tattoo artists is scheduled to be released worldwide this fall). The second, currently being developed, is a major retrospective monograph of his life and work and has been slated to be released in 2013. Both books are being published by the Rizzoli publishing house.
JK5 will be showcasing thirty brand new scratchboard works in a solo show titled "GET lost in SMART space" at BLAST.
About Blast
By offering selections of art and other retail items that can't be found in any other store in Teaneck or the surrounding NJ towns, BLAST is the place to satisfy one's urban, outsider, independent creative fix.
With art shows that change monthly, and a wide variety of specially curated merchandise, there is always a reason to pop into BLAST.
BLAST looks to host multidimensional artists that embody an original independent aesthetic, regardless of whether or not the work would normally be considered "high art".
Shows scheduled for 2011 include musicians Jad Fair, Daniel Johnston, comic book artist John Porcelino, and DEVO's Mark Mothesbaugh.
BLAST also hosts "happenings" such as movie nights, wine tastings, and musical performances.
"GET lost in SMART space" opens October 1st, and runs thru October 29th, 2011.
There will be an opening reception from 6–9 pm on October 1.
# # #