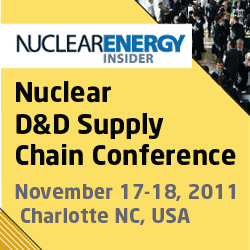 (PRWEB) September 08, 2011
After recent announcements from the U.S Nuclear Regulatory Commission, DOE managers from Hanford, Oak Ridge, Savannah River, Portsmouth Paducah and West Valley that they will be speaking along with leading contractors including Westinghouse, Amec, Fluor-B&W, CH2M Hill and Babcock International; it is clear that there are huge commercial opportunities with the Nuclear D&D industry for the supply chain, according to sources at Nuclear Energy Insider.
Mr Nauman's resume is unrivaled; he is currently responsible for leading Shaw's efforts responding to the natural disaster that critically damaged the Fukushima Daiichi Station in Japan. With more than 30 years of experience in project management, nuclear operations, engineering, maintenance, spent fuel storage and decommissioning, he brings a proven record of achievement in the field of environmental restoration, remediation and radioactive waste management.
The Nuclear D&D Supply Conference is coming to Charlotte for a 2 day business critical meeting which will bring together 150+ of the key D&D decision makers and thought leaders to discuss ways of reducing D&D costs and driving efficiencies to ensure efficient execution of current and future D&D projects.
The conference is taking place on November 17-18 in Charlotte, North Carolina. For more information follow http://www.nuclearenergyinsider.com/usdecom/download-brochure.shtml where people will find more details including the conference agenda, speaking organizations and registration options.
For further information please contact Emma Banymandhub via email at emmab@eyeforenergy.com or on her direct number +44 (0) 207 375 7565
###