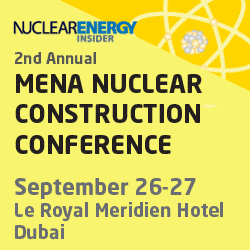 (PRWEB) September 08, 2011
In late 2009 KEPCO secured the Middle East's first tender for 4 new units to be constructed in the United Arab Emirates at a cost of $20 Billion. UAE nuclear utility ENEC have already confirmed that a further 12 units are required to fulfil their energy needs – this will generate over $60 billion in new contracts that will be available for tender over the upcoming years, according to sources at Nuclear Energy Insider.
2010 saw Jordanian state owned utility, The Jordan Atomic Energy Commission, announce a single 1000MW unit to be constructed at Majdal, Mafraq Province in central Jordan. After selecting Worley Parsons as an Engineering Consultant, it is expected that by October this year the main EPC contractor will be announced and the construction schedule will begin shortly, allowing the $6 billion plant to be operational by 2017. Currently French firm AREVA, Russian owned AtomstroyExport and the Canadian consortium AECL are battling to secure the contract.
Earlier this year Saudi Arabia's recently established King Abdullah City of Atomic and Renewable Energy (KA CARE) are working to build an entire city that produces zero Co2 emissions by only using an energy mix of nuclear power and other renewable sources. This complex and sizeable new nuclear project is by far the region's largest, with an individual budget of over $350 Billion to secure 16 new nuclear units. With the nation's wealth and vast oil reserves, paying for this ambitious project is no problem – however building a new power plant in the Middle East comes with unique challenges that can only be met with international expertise from across the globe.
Due to this all of the region's utilities are attending the 2nd Annual MENA Nuclear Construction Conference, hosted in Dubai on the 26-27 September. Dozens of utility representatives from the region will hear from EPC and technology providers including KEPCO, Shaw, Worley Parsons, AtomstroyExport and n.triple.a to find the best way to deliver their plants on time and on budget in the most challenging conditions.
The meeting is also of huge interest to the global nuclear industry and news of the C- level attendees from Saudi Arabia, Jordan and the UAE quickly began to circulate, resulting in other utilities from France, China, Russia and the UK instantly securing their places at the meeting to strike up new partnerships, develop business and share knowledge with the nuclear newcomers from the Middle East.
The summit is now an international meeting point for utility executives looking for new build expertise including KA CARE, JAEC, ESKOM, Horizon Nuclear Power, Rosatom, China Resources, NuclearElectrica and global nuclear heavyweight EDF. Each international organization will offer their best practice solutions to overcome the major new build challenges and accelerate the global nuclear renaissance – starting with the Middle East.
Conference hosts Nuclear Energy Insider stated "over the last year the importance of this meeting has grown significantly due to the rapid expansion of MENA new build programs across the region. Last year the conference was successful and formed a solid think tank to tackle the approach for first time projects the Middle East and North Africa – but this year the industry has progressed so much that the utilities want to plan their schedules, secure clients and get building! With over $400bn of real projects being addressed with real financial muscle, this is the only nuclear meeting suppliers and contractors need to attend in 2011."
If companies are looking to take advantage of the global nuclear renaissance, this is the only region where multi-billion dollar nuclear projects need a fully external supply chain to complete new build programs in the most challenging conditions – and this is the only annual meeting point where this exclusive industry connects.
If you want to secure your place in the $400+ billion MENA nuclear supply chain you need to attend the 2nd Annual Nuclear Supply Chain Conference, Dubai, 26-27 September.
For exclusive discounts, full agenda and detailed speaker line up download the conference brochure here: http://www.nuclearenergyinsider.com/mena/download-brochure.shtml
# # #