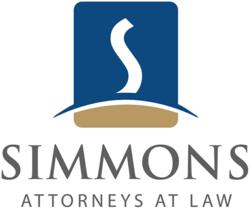 The FDA is asking surgeons to carefully consider all other treatment options
Alton, IL (PRWEB) September 13, 2011
Simmons Browder Gianaris Angelides & Barnerd, LLC has launched an investigation into claims that Transvaginal Placement of Surgical Mesh, a surgical treatment for pelvic organ prolapse and stress urinary incontinence, may expose patients to greater risks than other surgical options.
Pelvic organ prolapse (POP) occurs when the internal structures that support the pelvic organs such as the bladder, uterus, and bowel become so weak or stretched that the organs drop from their normal position and bulge or prolapse into the vagina.
Transvaginal mesh complications include mesh erosion, pain, and urinary problems. Sometimes these complications require a follow-up surgery to correct the initial surgery or leave the woman completely debilitated.
"A number of women who undergo transvaginal POP repair with surgical mesh are unaware of the seriousness of the complications associated with the procedure," said Trent Miracle, the Simmons Firm Partner leading the transvaginal mesh lawsuits investigation.
In 2008, the FDA stated that complications caused by transvaginal placement of surgical mesh were rare. However, a recent statistical review of medical research found that the number of procedures performed from 2008-2010 that resulted in serious complications was five times greater than the number reported from 2005-2007.
"There are clear risks associated with the transvaginal placement of mesh to treat POP," said William Maisel, M.D., M.P.H., deputy director and chief scientist of the FDA's Center for Devices and Radiological Health in a July 13 2011 press release issued by the government agency. "The FDA is asking surgeons to carefully consider all other treatment options and to make sure that their patients are fully informed of potential complications from surgical mesh. Mesh is a permanent implant -- complete removal may not be possible and may not result in complete resolution of complications."
In 2010, according to the FDA, there were at least 100,000 POP repairs that used surgical mesh. About 75,000 of these were transvaginal procedures.
The attorneys at the Simmons Firm are currently pursuing claims on behalf of women who were injured due to these procedures.
About Simmons Browder Gianaris Angelides & Barnerd LLC
The Simmons Firm is a leading law firm in pharmaceutical litigation. The Simmons firm has experience in litigating complex medical matters and has taken a leadership role in standing up for individuals who have been injured by dangerous or defective drugs. The firm has represented thousands of pharmaceutical clients and recovered more than $230 million in verdicts and settlements in cases involving Oxycontin, Vioxx, Bextra and more. Learn more at http://www.simmonspharmalaw.com.
# # #