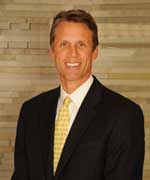 I am at a point in my career where I want to have the opportunity to roll up my sleeves again and really help advisers be successful
Middleburg, VA (PRWEB) September 07, 2011
Washington Wealth Management, LLC is pleased to announce the addition of Scott Wilson as Western Regional Director. An industry leader with more than 25 years of experience and a track record of having recruited over $80 million, Mr. Wilson's extensive background includes working as a Complex Director for both Merrill Lynch and Morgan Stanley Smith Barney, opening and developing offices throughout Southern California and Colorado.
Most recently, Mr. Wilson served as the Director of UBS's Wealth Advisor Office in San Diego. Mr. Wilson began his career in 1986 as a Financial Adviser with Edward Jones and Company, where he built his own successful practice for 12 years. As the Western Regional Director at Washington Wealth Management, Mr. Wilson will be based in San Diego, California developing branch locations in the San Diego and Palm Springs areas as well as the Denver market.
Washington Wealth Management President John Simmons remarked on Mr. Wilson joining the firm, "I've known and worked with Scott for many years. He's one of those guys that's been in the same shoes of the adviser, running his own practice, but also has a long track record of successfully opening and developing complexes for the large firms. So not only will Scott be a tremendous asset to us in growing our presence throughout the West Coast, but for the advisers joining our firm, he provides them with the type of leadership, guidance and support that will make their transition to independence successful."
Washington Wealth Management, LLC, a Registered Investment Adviser (RIA) was created to offer financial advisers the opportunity to break away from the traditional wirehouse relationship, something more and more advisers are exploring these days. The firm's Adviser Transition Program makes the transition to independence as simple and painless as possible. The program provides an entire team devoted to assisting and supporting the adviser through the process of transitioning and ownership of their own book of business ¬– covering most of the costs and eliminating many of the hassles that typically prevent advisers from going out on their own.
Regarding his decision to join the firm, Mr. Wilson remarked, "I am at a point in my career where I want to have the opportunity to roll up my sleeves again and really help advisers be successful. When I saw what Washington Wealth Management had created – with its unique proposition of adviser independence with local infrastructure and management – I knew this was something I needed to be part of. The platform is set-up to allow the adviser to focus on what they do best, manage money, and it allows them to be successful on their terms, not the terms of the firm. That's something I am excited to be a part of. And frankly I am thrilled to be able to go back and have a little fun again!"
Washington Wealth Management launched just nine months ago with its first branch location in Middleburg, Virginia, quickly followed up by a second branch in Richmond, Virginia. In August, the firm announced its entrance into the Family Office Business focused around a $250 million practice in the San Diego area, and a rapid expansion of West Coast operations with the addition of 5 Regional and Branch Directors covering Arizona, Nevada, Southern California and the Pacific Northwest.
"Everyday we're getting more and more inquiries from not only advisers looking to go independent, but branch and complex managers like Scott Wilson that have become disenfranchised by the wirehouse model and want to be part of something transformational," noted Tony Sirianni, CEO and Founder of Washington Wealth Management. He continued, "The benefits of being an adviser in a wirehouse are evaporating and the advisers are beginning to see and understand the power of independence and its tremendous benefits to themselves, as well as for their clients. The success we've had in adding new advisers and recruiting a top-flight management team are a manifestation of that, and reflect the power of our independent platform at Washington Wealth Management."
About Washington Wealth Management
Headquartered in Middleburg, Virginia, Washington Wealth Management is an independent Registered Investment Adviser, established to create a branch network of independent financial advisers. The firm offers advisers the opportunity to become their own boss and take ownership in their business, and provides them and their clients with access to a full set of investment products and services from an independent wealth management platform. Advisers at Washington Wealth Management are part of an organization that encourages collaboration and idea sharing, a culture that values them as individuals, and cares about the individual client.
Mr. Sirianni, CEO and Founder of Washington Wealth Management is a 20-year financial services veteran who has held sales and executive management roles with firms such as Oppenheimer, Merrill Lynch, Legg Mason, and Morgan Stanley Smith Barney. Mr. Sirianni has a JD Law Degree from N.Y Law School, a Masters from the City University of New York, and a Bachelors from Trinity College. Mr. Simmons has been in the financial services industry since 1987. Since that time he has held Sales and Management roles for Wachovia Securities, Merrill Lynch and most recently Morgan Stanley Smith Barney where he was Regional Director overseeing the Southern California, Las Vegas and Hawaii Region. Washington Wealth Management also boasts a team of 7 Regional and Branch Directors, each with 20 plus years of experience, providing a combined 200 years of combined leadership experience to work with advisers on a day-to-day basis, helping them develop their business plans and refine investment strategies for their clients, and meet with current and prospective clients.
Securities are offered through FCG Advisors LLC, a registered Broker Dealer, Member FINRA/SIPC.
Financial Advice is offered through Washington Wealth Management, LLC a Registered Investment Adviser.
Washington Wealth Management, LLC is not a subsidiary or control affiliate of FCG Advisors.
###