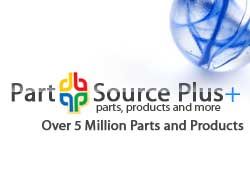 Bedford Heights, OH (PRWEB) September 08, 2011
PartSource Plus headquarters in Bedford Heights, OH, has launched a new website/online store to offer discounted parts, products and accessories http://www.partsourceplus.com.
The new online store offers parts, products and accessories for all major brands including Black and Decker Parts, George Foreman Parts, BreadMan Parts, Clear2Go Parts, Delonghi Parts, Emerson Parts, Farberware Parts, Hitachi Parts, Juiceman Parts, Mega Catch Parts, Mosquito Magnet Parts, Philips Parts, Russell Hobbs Parts, Sharp Parts, SonicWeb Parts, Sony Parts, Toast Master Parts, Toshiba Parts, Melita Parts, SonicCare Parts, Senseo Parts, Norelco Parts and many more brands
In addition to the parts the website will be offering a complete line of Original replacement remotes, a complete line of Replacement Lamps and Bulbs for TV and Projectors, a Completed line or Replacement Batteries for our everyday use electronics and we are also offering some discounted Products at the lowest prices on the web.
Original Replacement Remotes - our line of original replacement remotes was designed to offer an option to replace you original remote at a low cost. We offer a wide range of brands and replacement models of the most popular TV's, DVD's, Stereos, VCR's and more from Panasonic Remotes, Sony Remotes, Hitachi Remotes, Sharp Remotes, Emerson Remotes, Orion Remotes, Magnavox Remotes, Philips Remotes, Delonghi Remotes, Memorex Remotes and more.
Replacement Batteries – Our line of replacement batteries includes batteries for all of the major electronics available in the market. Cell Phone Batteries, Cordless Batteries, Flashlight Batteries, Ride On Batteries, Laptop Batteries, Digital Camera Batteries, Twoway Radio Batteries, Video Camera Batteries, Therminal Imaging Batteries, IPod Batteries, Batteries Charges and more.
Replacement Lamps / Bulbs – PartSource Plus offers all major brands for Projectors, Projection TV replacement lamps and bulbs, From Manufacturers like Sony Lamps, Acer Lamps, Ask Lamps, BenQ Lamps, Canon Lamps, Dell Lamps, Epson Lamps, Hitachi Lamps, Panasonic Lamps, Toshiba Lamp, Sharp Lamps, Samsung Lamps, Epson Lamps and more.
To Order visit us at http://www.partsourceplus.com or contact us at 800.738.0245
###