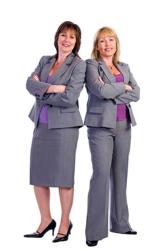 With Gina's help, advice and some strategic planning we reached the sales targets set for October 2011 by May 2011, effectively three months ahead of schedule
(PRWEB UK) 15 September 2011
Gina Gardiner, an international speaker and executive business coach has successful experience with training programmes that have benefited numerous individuals and organisations including Microsoft, CAPITA, DFES and the National Health Service.
Having already established a need for clients to have regular media presence at a monthly affordable rate, The Write Impression had recently launched its new Press, Media and Marketing Packs and set a six-month target for new clients. "With Gina's help, advice and some strategic planning we reached the sales targets set for October 2011 by May 2011, effectively three months ahead of schedule," Caroline explained.
Although highly successful in helping other businesses develop their sales and marketing, partners Kate Everett and Caroline Foster found it challenging to 'sell' their own services, especially when it came to upselling and closing sales.
"You may be good at what you do, but most people aren't experienced sales people," explains Gina Gardiner. "Being able to sell what you do is equally as important as what you have to offer – otherwise people just won't buy into it."
Gina explained the importance of language when 'selling' and how to interpret the different use of language from prospective clients. Understanding how different people buy through listening to their requirements, worries or concerns helped Kate and Caroline address exactly what their prospective clients needed to know.
"We looked at what The Write Impression had to offer as a company and what they needed the company to do to reach their goals," says Gina. "But before any changes were made, they needed to understand the impact it would have on their clients."
Through a series of progressive coaching sessions with Gina, partners Kate Everett and Caroline Foster have carefully monitored and thoroughly evaluated The Write Impression's performance in order to determine areas the partners felt were holding the company back.
Gina's workshop and coaching sessions can be tailored to the specific needs of the individual or organisation. Participants are also welcome to join an open course. For more information call Gina Gardiner on 01206 230 497, email gina(at)ginagardiner(dot)com or visit http://www.ginagardinerassociates.co.uk
# # #