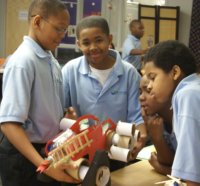 Dearborn, MI. (PRWEB) September 07, 2011
During the 2011-2012 school year, Henry Ford Learning Institute (HFLI) and its partners will provide 1,900 middle and high school students at four college-preparatory Henry Ford Academies with a high-quality education that emphasizes development of essential mindsets and a lifelong critical thinking process, together: "design thinking." These small public charter schools are located in America's urban centers, and include:
•Henry Ford Academy: School for Creative Studies in Detroit, Mich.
•Henry Ford Academy: Alameda School for Art + Design in San Antonio, Texas
•Henry Ford Academy: Power House High in Chicago, Ill.
•Henry Ford Academy in Dearborn, Mich.
IDEO, which is one organization responsible for the growing popularity of design thinking, describes it as a "human-centered approach to problem solving that helps people and organizations become more innovative and creative." Their CEO, Tim Brown, has said that design thinking might just be the quintessential career and college skill set for this new era, central to success in every career. The Hasso Plattner Institute of Design at Stanford University ("the d.school") refined the design thinking process for K-12 schools. Developed with previously announced support from Ford Motor Company Fund, the Bill & Melinda Gates Foundation, W.K. Kellogg Foundation and the Skillman Foundation, HFLI's design thinking curriculum is aligned with national and state standards and is consistent with calls for "deeper learning" by the Alliance for Excellent Education and other leading advocates.
"Design thinking starts with seeing opportunity in a landscape of challenge and provides a structured way of addressing problems in all aspects of our lives. The world we're coming to will demand that we are highly skilled and deeply experienced in using it," says Deborah Parizek, Executive Director of Henry Ford Learning Institute. "A focus on creativity, critical thinking, communication and collaboration is essential to prepare students for the future."
Quarterly or semester-based "design challenge" projects are central to HFLI's core curriculum. Through each design challenge's cycles of gaining understanding and empathy, defining the problem, building new ideas, prototyping, gathering feedback and reflection, students learn to embrace experimentation, and the inevitable mistakes that are part of the creative process, as instructive experiences. Students at Henry Ford Academy: Alameda School for Art + Design in San Antonio recently won a national Community Design Competition, sponsored by the Smithsonian's Cooper-Hewitt, National Design Museum and Ford Motor Company; an outcome of a quarterly design challenge, the 9th graders' backpack for residents of a nearby homeless shelter incorporated input from the center's staff and clients as potential users.
All new Henry Ford Academy students participate in Foundations of Innovation, an introductory course that HFLI developed in conjunction with the d.school and IDEO. HFLI is starting to share elements of its design thinking programs, like Foundations of Innovation, with interested schools outside of its network of Henry Ford Academies. Over the summer, Henry Ford Academy teachers, Ford Partnership for Advanced Studies (Ford PAS) Next Generation Learning teachers and other school leaders from around the country, gathered in Detroit for a 3-day "boot camp" that prepared them to teach Foundations of Innovation.
Henry Ford Learning Institute (HFLI) is a non-profit organization founded in 2003 by Ford Motor Company Fund and The Henry Ford. HFLI's mission is to create small schools and hands-on learning programs that leverage a wide range of local resources to create thriving communities where education is everyone's responsibility. Follow HFLI on Facebook and Twitter, or call 313-982-6027 for more information.
###