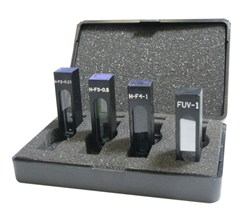 What is NIST Traceable and how does it differ from NIST Compatible?
Farmingdale, NY (PRWEB) September 06, 2011
Today many vendors that supply neutral density (ND) filters state that their filters are NIST Traceable. As a scientist or researcher a major question to ask is "What is NIST Traceable and how does it differ from NIST Compatible?" Oftentimes researchers or scientists think that if spectrophotometer calibration standards are NIST Traceable then it is ideal for their lab. Unfortunately NIS Traceable is a term that is often misunderstood.
According to the National Institute of Standards and Technology (NIST), solid state neutral density (ND) filters must meet standards for accreditation. But what are the basic requirements for accreditation? For spectrophotometers, NIST Traceable may not be satisfactory for the appropriate calibration. In fact, for maximum precise calibration NIST Compatible is largely the requirement for ND filters. Furthermore, the difference between NIST Traceable and NIST Compatible is quite significant:
NIST Traceable ND Filters:
A spectrophotometer records a scan of the ND filter showing optical density at different wavelengths of light. It does not require tolerance level information in reference to humidity conditions, temperature or other environmental factors. As well, the scan does not include optical density variation, incident light-angle sensitivity, wavelength deviation or other parameters.
NIST Traceable is precisely a "Trace" spectrophotometer scan of the ND filter that may or may not correspond to all NIST requirements. The "Trace" is only one requirement for NIST standards.
In summary, an ND filter that is NIST Traceable may or may not meet all requirements for NIST accreditation. Subsequently, ND filters that are traceable can have variable tolerances with some that may fall outside of NIST standards.
NIST Compatible ND Filters:
All standard NIST procedures are followed and completed including verification performance and producing the corresponding traces for every ND filter manufactured. According to Good Laboratory Practices (GLP), a NIST Compatible ND filter must be used for the appropriate verification of performance and calibration of spectrophotometers.
The GLP is a set of regulations that manages tests for research laboratories and organizations that specifies reliability, quality, uniformity, consistency, reproducibility and integrity of chemical safety and efficiency.
If a ND filter is NIST Compatible then users can be assured that it is quite accurate. Regrettably there are very few companies that have NIST Compatible products. As a forerunner in the silica industry for advanced equipment, NSG Precision Cells not only has products that are NIST Compatible but they match or exceed the standards.
With specialties in high-quality designing and manufacturing in spectrophotometers, calibration equipment, flow cells, flow cytometry cuvettes and other fine quartz products; NSG Precision Cells leads the industry in quality products. In effect, the spectrophotometer calibration kits are one of the rare kits on the market that are NIST Compatible. Likewise, the NSG kits exceed NIS Traceability guidelines and have quickly replaced older liquid kits that are outdated.
In addition, NSG's spectrophotometer meets the following conditions: ND filter tolerance levels, meet NIST requirements, All other parameters to light correspond to NIST standards, Performance levels never degrade over time like liquid-based calibrators, Calibration filters are not highly sensitive to surrounding temperatures or humidity, ND filters are not extremely sensitive to countless parameters that liquid filters are subject to.
With the highest level of development in the scientific field, NSG Precision Cells is quickly becoming the world leader in spectrophotometer calibration. Unquestionably, the NSG spectrophotometer calibration kit is best choice for precise results in all types of labs.
About NSG Precision Cells
NSG Precision Cells, Inc. was founded in 1958 and has been growing ever since. NSG Precision Cells, Inc. is a well established, highly regarded quartz manufacturer and we specialize in the manufacturing of quartz flowcells, quartz flow channel cuvettes, quartz microchips, quartz cuvettes, and other quartz optical products.