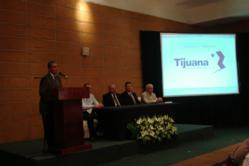 Tijuana, Mexico (PRWEB) September 06, 2011
On September 7th will take place the 4th edition of the Medical Device Supplier Day 2011 in Tijuana, Baja California organized by the Baja California Medical Device Cluster in association with Tijuana EDC and other private and public organizations. This event will take place at the Gran Hotel Tijuana.
The purpose of the event is to allow new business opportunities among the participating companies. During the event there will be a series of conferences, supplier expo, and business matchmaking (B2B meetings) between manufacturing companies and potential suppliers.
Also, MEDevice Forum will take place this month. On September 13-14, San Diego's Convention Center will be filled with Industry- Leading Medical Suppliers. This event will highlight everything you need to improve product quality and reliability, shorten time-to-market, reduce costs, and improve patient safety. MEDevice will feature keynotes, as well as solutions based presentations by medical technology executives and some of the industry's most noted authorities.
The Tijuana EDC is offering MEDevice forum attendees an Industrial Tour on September 12th, visiting some of the most important manufacturing companies based in Tijuana such as CareFusion, Welch Allyn, Greatbatch, and Smiths Medical. This visit will allow you to learn about their manufacturing capabilities, skills, and quality management each company applies to their production, as well as their supplier needs. During the conference the Tijuana EDC will be sponsoring a networking reception on the 13th and will participate as panelist at the Innovation Briefs Theater at Booth 221, with the near-shore manufacturing success stories of Care Fusion and Smiths Medical. Click here for more info.
This insightful panels and tours are free of charge for manufacturing companies.
The medical device manufacturing sector in the city of Tijuana has seen significant growth, with average annual employment growth rate of 8.7% since 2004. Tijuana medical device manufacturing companies employ over 30,000 in 41 plants, as of early 2011. This number makes Tijuana the leading manufacturing destination for the medical device industry in North America.
Among Tijuana's advantages is the experience of its skilled workforce, trained in clean room procedures, lean manufacturing and high quality standards. Nearly all medical device manufacturing companies operate under FDA or CE regulatory requirements, as well as being certified in ISO 13485, ISO 9000 or other world class quality standards.
With over 40 years of export manufacturing experience Tijuana offers a near-shore outsourcing solution for transnational corporations from all over the world looking to remain competitive in the global market.
About Tijuana EDC: The Tijuana EDC is a nonprofit corporation dedicated to help companies to establish successful manufacturing operations in Mexico and to take advantage of business opportunities of vertical integration introducing qualified Mexican suppliers and accessing new markets. For more information on how to take advantage of these opportunities contact the Tijuana EDC at contact(at)tijuana-mex(dot)com or visit their website http://www.tijuana-edc.com/english/
###