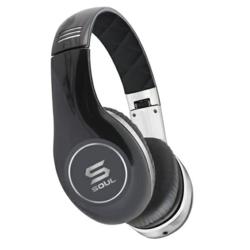 Both SOUL and Headphones.com are committed to exceeding expectations and offering only the best.
South Hackensack, NJ (PRWEB) September 06, 2011
Headphones.com has the full line of Soul by Ludacris headphones in stock and available for immediate shipment. The product line consists of 5 models, ranging in price from $69.95 to $299.95.
"Our entire team at Soul Electronics is proud to partner with Headphones.com. Their high standard for superior performance is what SOUL is all about. Both SOUL and Headphones.com are committed to exceeding expectations and offering only the best." said Bob Bonefant, Founder of SOUL Electronics and SOUL by Ludacris headphones.
The first model in the lineup is the SL49 earphone for $69.95, whose high precision sound comes in a compact package. iPhone ready, this earphone has a microphone and 3-button remote.
The SL99 is the highest end in-ear headphone from Soul by Ludacris. These sound isolating headphones have all of the same features of the SL49, but have a larger chamber and deliver more impactful bass.
The SL100, available with both red (SL100RB) and blue (SL100UB) accents, is the smallest of the on-ear headphone models. These lightweight and durable headphones offer full ear-cup articulation for maximum comfort, an iPhone ready 3-button remote with microphone and a sleek folding design for easy storage. At $149.95, these headphones offer better sound at a better value than other similar models in it's price range.
The next step up in the Soul by Ludacris headphone line is the on-ear model SL150, available in both white (SL150BW) and black (SL150CB). With the same great features as the SL100, the SL150's increased size gives the user larger earpads and increased sound isolation from outside noise. The Soul by Ludacris SL150 review by Headphones.com rates these headphones with a 9.5 in Design & Features with an 8.5/10 overall for its value, priced at $199.95.
The SL300 is the most robust model in the Soul by Ludacris line, priced at $299.95 and available in both gold (SL300GG) and black (SL300WB). These headphones are the only over-ear model offered in the line, meaning the ear-cups cover the entire ear. Alone, that offers superior sound isolation from outside noise, but when coupled with the active noise canceling technology in the SL300s a user can be removed from the majority of outside noise distraction. A unique feature to these noise cancelling headphones specifically is their ability to continue to playback music when noise cancelling is turned off, or battery has been drained. The Soul by Ludacris SL300 review gives this set of headphones high marks across all rating categories, with an overall value rating of 9/10.
"We are excited to be partnering with the Soul by Ludacris team", said Headphones.com Manger, Brian Gluck. "Their headphones not only sound great, they look great too and are full of great features that really resonate with the portable audio crowd; including ipod controls, removable cables, protective carrying cases and foldable design."
About Headphones.com
Headphones.com is part of the AlltecStores network. The AlltecStores network consists of several specialty, e-tail websites focusing on audio-visual and technology products. It's main website, AlltecStores.com is parent to several others e-commerce sites, including Headphones.com, ProjectorScreenStore.com, AllCartStore.com, PodiumAndLecternStore.com, AllWhiteboards.com, ProjectorBulbsandLamps.com, NationalAVSupply.com and more. Manufacturers interested in having their products on Headphones.com should contact pr(at)headphones(dot)com. For more information visit http://www.headphones.com
About SOUL by Ludacris®
Expression, Passion and Superior Sound are at the core of the SOUL by Ludacris ® experience. Here to prove that style and sound quality can coexist, the SOUL line offers an array of personal audio products that masterfully balance elements such as world-class noise cancellation technology with superior sound quality, allowing you experience the full range of your music. Pair that with an award winning design team and the expressive vision of world renowned artist Ludacris, and you get the first headphone that effectively merges style with professional acoustics.
About SOUL Electronics®
Pairing extraordinary technology with innovative design concepts, SOUL Electronics has made a name for itself as a global leader in the consumer electronics and manufacturing arena. A collaboration between CE industry veteran Bob Bonefant and Billy So, CEO of Hong Kong-based consumer technology giant AV Concepts, SOUL Electronics has a rich history in delivering superior consumer technology products with state of the art acoustics. The SOUL Electronics company is parent to three distinct brands, including the recently launched SOUL by Ludacris line of high-end personal audio products, the world class CE accessory line, Signeo, and the highly revered consumer audio and electronics brand Nakamichi.
###