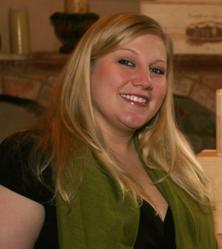 "Audrey has really elevated the quality of our events to a new level," said Salzner. "She developed and has continued to improve what has grown to be recognized as a first class hospitality program."
Calistoga, CA (PRWEB) September 08, 2011
Castello di Amorosa has announced the promotion of Audrey Hardy to Vice President, Hospitality and Events at Dario Sattui's authentically-styled, 13th century Tuscan castle and winery in the Napa Valley. Formerly the Director of Hospitality at Castello di Amorosa, Hardy will manage the hospitality staff and direct events at the 121,000 square foot facility. She will report directly to Georg Salzner, President.
"Audrey has really elevated the quality of our events to a new level," said Salzner. "She developed and has continued to improve what has grown to be recognized as a first class hospitality program."
Having worked across the U.S. and globally as a hospitality and catering manager for Four Seasons Hotels & Resorts, and more locally as a production and sales manager for Paula LeDuc Fine Catering, Hardy joined Castello di Amorosa in 2009. She is a recognized leader in the hospitality industry and serves actively on the Board of Directors of several local industry networking organizations including ISES (International Special Events Society).
Hardy holds two Bachelor of Science degrees in Advertising and Microbiology from the University of Texas at Austin and makes her home in Saint Helena, California.
Following fourteen years of construction, Sattui opened Castello di Amorosa in April of 2007. Situated in the hills above Calistoga, Castello di Amorosa- a family-owned business- produces world-class wines including a Pinot Grigio from Mendocino County and award-winning Cabernet Sauvignon which are sold only at the winery direct to the consumer. The castle winery was made with brick, wood and iron imported from Europe and combined with over 8,000 tons of local, Napa Valley stone. Today, Castello di Amorosa, a popular Napa Valley destination, offers a variety of wine tasting and winery tour in a unique Tuscan castle setting.
###