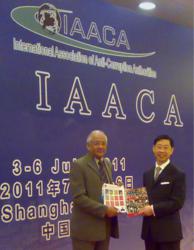 Combating corruption, the cancerous global menace.
Colombo, Sri Lanka (PRWEB) September 14, 2011
At the IAACA Seminar in Shanghai, China, Sri Lanka's leading public interest activist, Nihal Sri Ameresekere, presented his continuing series of books on combating corruption, fraud and economic crime, dealing with real case studies, to Dr. Ye Feng, Secretary-General of IAACA, promoting the implementation of the UN Convention Against Corruption.
Dr. Feng, endorsement stated, "IAACA was pleased that one of its members, Nihal Sri Ameresekere, in keeping with the objectives of IAACA, had taken a step to author and publish a series of books, dealing with real case studies in combating the global cancerous menace of economic fraud and corruption, which threatens good governance and the well being of people. The contents of this series of books would, no doubt, be of material relevance and of educational value to anti-corruption authorities globally."
1. "UN Convention Against Corruption – To Combat Fraud & Corruption – a Cancerous Menace, with mere Rhetoric, subverts UN Convention" – Author deals with the UN Convention Against Corruption and role played by IAACA, revealing how international agencies merely pontificate on combating fraud and corruption, but continue to fraternize with fraudulent and corrupt miscreants, and also includes exposés on corruption by the author.
2. "Colombo Hilton Hotel Construction - Fraud on Sri Lanka Government - Sri Lanka's First Derivative Action in Law" – SC Nos. 33 & 34/1992, Reported in Commonwealth (Commercial) Law Reports - 1992 CLR @ 636 – involves Mitsui & Co. Ltd., Taisei Corporation and Yozo Shibata Associates Architects of Japan, with KPMG Ford Rhodes Thornton & Co., as Auditors – Author reveals how a sophisticated fraud against a sovereign State was successfully combated by public interest litigation.
3. "IMF, World Bank & ADB Agenda on Privatisation - Sri Lanka Insurance Privatisation, handled by PricewaterhouseCoopers and Ernst & Young - Annulled as Unlawful & Illegal by Supreme Court" – SC (FR) No. 158/2007 – Author reveals a complex fraud, and the absence of law enforcement, with compromising conduct of Chamber of Commerce and Chartered Accountants' Institute.
4. "Derivative / Hedging Deals by Citibank, USA, Standard Chartered Bank, UK, Deutsche Bank, Germany, with Sri Lanka Government's Petroleum Corporation - Dubious & Illegal ?" – SC (FR) Nos. 535 & 536/2008, 404 & 481/2009, LCIA No. 81215 – Author analytically explains these gambling deals, with sophisticated documentation, and the unequal treatment before the law, raising issues of contempt of court and judicial bias.
5. "IMF, World Bank & ADB Agenda on Privatisation - Colombo Port Bunkering Privatisation - Annulled as Illegal & Fraudulent by Supreme Court" – SC (FR) No. 209/2007 – involving UN Global Compact Company – Author exposes how large corporates compromise political leaders, at whose behest the judiciary delivered judgments, shockingly exposing that two material pages of a dissenting judgment, critical of the President being cannibalized and suppressed.
6. "Transparency & Public Accountability - Fiscal Mismanagement & Lack of Public Accountability - Case Study - Sri Lanka, a Country under the Purview of IMF, World Bank, ADB" – SC (Ref.) No. 1/2004, SC (SD) Nos. 26/2004, 3/2008 – Author deals with constitutional mandates and social contract, vis-à-vis, management of resources of the people, upholding the rule of law, disclosing the roles played by Attorney General and judiciary.
7. "IMF, World Bank & ADB Agenda on Privatisation - Pillage of the Plantations in Sri Lanka" – Author deals with dubious privatisations of plantations, benefiting the privileged, causing losses to the State, devoid of accountability and the rule of law.
Nihal Sri Ameresekere previously launched this continuing series of books in Washington, at the Government Accountability Project, leading whistleblowers in US, in New York at UN Correspondents' Association, in Miami at the 25th Annual Conference of the International Consortium on Governmental Financial Management and in Los Angeles. This continuing series of books is a part of IAACA's program to combat corruption, fraud and economic crime.
President & CEO James D. Ratley of the Association of Certified Fraud Examiners, United States, commends stating, "I am amazed at the amount of effort and research that it must have taken to write these important works. We are adding these to our Fraud Library here at the ACFE Headquarters in Austin, Texas. They are a worthy addition to our library. It is heartening to know that we have members such as you, who give of their time and talents in the ongoing fight against fraud and corruption."
Books are available from publishers, AuthorHouse US & UK: http://www.authorhouse.com, http://www.authorhouse.co.uk, and internationally from leading e-retailers - More information : http://www.consultants21.com/publications
SOURCE: Consultants 21 (Publications) Ltd.
For review copies or interview requests, contact AuthorHouse Marketing Services: 888-519-5121 (Tel), 812-961-3133 (Fax). For further details, contact Consultants 21 (Publications) Ltd.: +94-11-2686364 or +94-11-2696814 (Tel), +94-11-2697134 (Fax), c21publications(at)gmail(dot)com.
AuthorHouse, an Author Solutions, Inc. self-publishing imprint, is a leading provider of book publishing, marketing, and bookselling services for authors around the globe and offers the industry's only suite of Hollywood book-to-film services. Committed to providing the highest level of customer service, AuthorHouse assigns each author personal publishing and marketing consultants who provide guidance throughout the process. Headquartered in Bloomington, Indiana, AuthorHouse will celebrate 15 years of service to authors in Sept. 2011.For more information or to publish a book visit authorhouse.com or call 1-888-519-5121. For the latest, follow @authorhouse on Twitter.
###