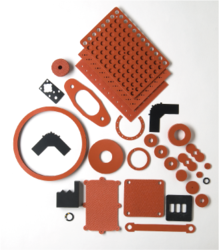 Sutton, MA (PRWEB) September 07, 2011
Interstate Specialty Products Company announces the release of the white paper entitled "7 Steps to Achieving Successful Gasket Applications." Gasket performance is critical to a wide range of products and is becoming more important than ever with the increasing need to control leakage to address goals such as improving product safety and reliability and meeting environmental regulations. This article will discuss some of the key factors involved in accomplishing a successful gasket application:
1. Begin thinking about gasket design in the early stages of the design process
2. Carefully define the function of the gasket
3. Select the right gasket material
4. Optimize the gasket geometry
5. Define the assembly process
6. Consider the gasket manufacturing process
7. Work with a vendor with the right kind of experience
For a complete copy of the white paper," 7 Steps to Achieving Successful Gasket Applications", please visit http://www.interstatesp.com/die-cutting-gasket-whitepapers/successful-gasket-applications.html
Interstate Specialty Products manufactures high-performance gaskets and offers precision custom die cutting services. Founded in 1963, Interstate Specialty Products (ISP) serves blue-chip clients in the scientific, medical, industrial and many other industries. For over 45 years, Interstate Specialty Products has continually set new standards in custom gaskets and die cutting. Interstate offers clients an unbeatable combination of industry expertise, state-of-the-art equipment and facilities, competitive pricing and impeccable customer service. ISP is where innovation takes shape.
For more information on Interstate Specialty Products, visit their website at http://www.interstatesp.com
###