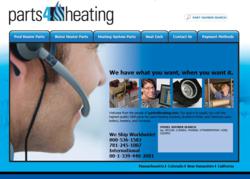 Wilmington, MA (PRWEB) September 08, 2011
Parts 4 Heating, a leading supplier of heating system parts for boilers, furnaces and swimming pool heaters, is pleased to announce its partnership with Fenwal and is now officially recognized as an authorized Fenwal parts distributor. The team at Parts 4 Heating has committed to providing its client base with a brand name, quality selection of heating parts along with providing unparalleled customer support and this affiliation is yet another way Parts 4 Heating is achieving those goals.
Fenwal has been known for creating and distributing high quality and safety conscious controls for more than 70 years. Fenwal products provide industry leading solutions for gas ignition and temperature control with a focus on reliability and quality. Numerous Fenwal control products are currently available on the Parts 4 Heating website to meet most heating application needs. Though Fenwal has the prestige and reputation of a global company, Fenwal products are distributed through local distributors, such as Parts 4 Heating.
Parts 4 Heating distributes a myriad of brand name and top quality products from manufacturers ranging from Pentair, Raypak and Hayward parts to Teledyne Laars, Zodiac Parts and more. Whatever the heating part needed, Parts 4 Heating has the item available and the 24-hour-a-day email support to help.
###