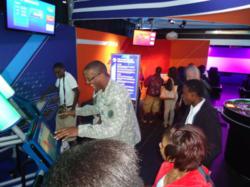 "This is such an enriching experience for the kids; it offers them an amazing oppurtunity to see what the future brings in regards to energy." Ballou High School, Washington, DC
Dover, DE (PRWEB) September 08, 2011
In support of "Educate to Innovate" and to raise the math and science literacy of the nation, the Army National Guard is bringing its interactive Mobile Learning Center (MLC) Program to Dover High School. The MLC Program, which tours schools, summer camps, festivals and events and armories throughout the country, focuses on technology while exploring energy efficiency and alternative energy sources through engaging and highly interactive math and science experiences. The goal of the visit to Dover High School is to increase community interest in math and science, and educate youth and young adults on the many career opportunities in these fields.
"The National Guard Mobile Learning Center Program provides students and educators with a cutting edge tool for learning and teaching," said Colonel Rich Baldwin, Division Chief of the National Guard Bureau - Education, Incentives & Employment division. "As a community organization, the National Guard seeks to optimize its presence by serving communities like Dover. We are committed to preparing our youth for the challenges of an increasingly competitive global workforce. Through the Mobile Learning Center Program, young adults will gain educational opportunities and experiences directly related to emerging science, technology, engineering, and mathematics career fields so they are better equipped for future success."
The mobile tour's vehicle, "The Energy Lab", is a fully mobile 65' Rapid Deployment Vehicle that transforms into an interactive, remote classroom filled with educational, fun and inspiring learning tools that will encourage high-school students and kids to participate in and excel at science and math. On board the trailer is a 24-seat theater with a powerful sound and lighting system that will provide an enhanced multimedia learning experience while introducing students to the platform of energy and environment. Off board the 27'x27' tent contains four separate interactive exhibits focusing on the four elements: earth, water, wind and fire.
In 2009, President Obama launched "Educate to Innovate", an initiative designed to improve the participation and performance of America's students in science, technology, engineering, and mathematics (STEM). The MLC Program will support the development of STEM education standards across the country and encourage kids to stay in school, study, and graduate.
While the United States boasts great schools, excellent teachers, and successful students, there are also troubling signs that, overall, our students should be doing better in math and science. In the 2006 Programme for International Student Assessment (PISA) comparison, American students ranked 21st out of 30 in science literacy among students from developed countries, and 25th out of 30 in math literacy. On the 2009 National Assessment of Educational Progress (NAEP) math tests, 4th graders showed no signs of progress for the first time in years, and 8th graders tallied only modest evidence of progress.
The Energy Lab began its tour on September 30th 2010 during a kick-off event in Washington, DC. The Energy Lab has toured across the country and visited communities in GA, AL, TN, AR, LA, TX, AZ, CA, OK, MO, IL, VA, KY, MD, OH, and NY.
Program information is available online for educators, students, and parents. Visit us on Facebook (http://www.facebook.com/ngenergylab) and the National Guard website (http://www.NATIONALGUARD.com/energylab) to download STEM-related education resources including teacher's guides, post-visit assessment worksheets and additional information on math, science, energy and the environment!
Onsite interviews are available, and media representatives are invited to tour the Energy Lab on weekdays during the hours of 9AM to 3PM Tuesday, September 13th through Friday, September 22nd at 1 Pat Lynn Drive, Dover, DE 19901.
Additional Highlights from the Mobile Learning Center
EARTH
This interactive game allows players to extract oil, gas and coal from the Earth in an effort to produce an electrical output. As each player advances further into the future, it becomes more challenging to save the environment and adapt to Earth's increasing population.
WATER
This interactive experience allows players to use a balance board to rock back and forth to produce waves that will increase electrical output. Players learn about the various types of waves and locations that are optimal for the generation of wave energy. As players advance, they must brave stormy seas in order to continue producing electricity and earning points to win.
WIND
Players take on the role of a farmer that must choose the most favorable conditions for wind turbines based on location and arrangement in order to maximize power. Players experiment with the various options to build wind turbine farms that are more efficient than fellow farmers (players).
SOLAR (fire)
Players will interact with simulated solar panels to challenge themselves to generate enough power to supply as many homes as possible for one day. Players must overcome stormy weather conditions to continue to provide power and earn points.
ENERGYTOWN
Following the last experience, students gather at Energy Town, a physical model of a city that showcases the visual and physical representations of the percentage of resources, both renewable and nonrenewable, being used today and the projected use in the year 2050. This experience brings together the concepts learned at the four stations: earth, water, wind & fire and allows students to better understand the abstract concept of energy and wattage, and learn how each relates to their own lives.
About the Army National Guard – The Army National Guard (ARNG) is one component of the Army (which consists of the Active Army, the Army National Guard and the Army Reserves). The Army National Guard is composed primarily of traditional Guardsmen—civilians who serve their country, state and community on a part-time basis (usually one weekend each month and two weeks during the summer.) Each state, territory and the District of Columbia has its own National Guard, as provided for by the Constitution of the United States.
About Educate to Innovate - President Obama's Educate to Innovate campaign is a nationwide effort to help reach the administration's goal of moving American students from the middle to the top of the pack in science and math achievement over the next decade. Launched in November 2009, Educate to Innovate is designed to improve the participation and performance of America's students in science, technology, engineering, and mathematics (STEM). This campaign includes efforts not only from the Federal Government but also from leading companies, foundations, non-profits, and science and engineering societies to work with young people across America to excel in science and math. This nationwide effort includes over $260 million in public-private investments.
###