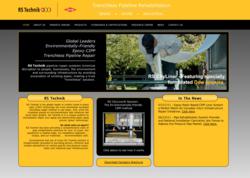 "We specifically built our site to inform users, owners and engineers about the availability of these proven and eco-friendly products in the Americas,"
Cary, North Carolina (PRWEB) September 08, 2011
RS Technik recently launched http://www.rstechnik.us, to promote epoxy cured-in-place pipe (CIPP) and other trenchless technologies. The new website features a complete line of environmentally friendly solutions featuring Dow® specially formulated epoxy resins.
Responding to the demand for sustainable, styrene-free cured-in-place-pipe (CIPP) solutions, RS Technik offers RS BlueLine®, for municipal and industrial pressure pipe repairs, RS CityLiner® for main line sewer rehabilitation, and RS MaxLiner® for lateral lines. RS Technik trenchless solutions also include RS MaxPatch® for point repairs, and RS SprayLiner® for manhole and other sewer infrastructure protection and rehabilitation.
"We specifically built our site to inform users, owners and engineers about the availability of these proven and eco-friendly products in the Americas," stated Joanne Hughes, SVP at RS Technik. "The website is designed to provide a clean, regional accent to our global web presence. Our product and service offering is clear, and most importantly it's easy to navigate," added Ms. Hughes.
With 30+ million feet installed worldwide, RS Technik is a proven leader in epoxy cured-in-place pipe (CIPP) trenchless rehabilitation technology.
###