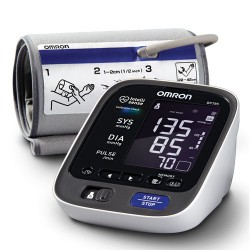 For anyone serious about increasing fitness, the Omron system is a perfect solution, and makes a great gift
Issquah, WA (PRWEB) September 11, 2011
QuickMedical is offering the new Omron Health Management Software Kit -- a state-of the-art pedometer and blood pressure monitor with personal health management software for the PC.
"For anyone serious about increasing fitness, the Omron system is a perfect solution, and makes a great gift," said Scott Hanna, CEO of Quick Medical. "Simply connect the USB-compatible pedometer or blood pressure monitor to your PC, and the Omron health management software charts your progress toward your health and fitness goals."
The kit includes the state-of-the-art Omron HJ720ITC Advanced Pocket Pedometer and the Omron HEM790IT Automatic Blood Pressure Monitor, along with the software CD. Both the pedometer and blood pressure monitor display a user's most recent readings on easy-to-read built-in screens. Once the readings are uploaded to the PC, the Omron Health Management Software stores and analyzes weeks' and months' worth of records and displays the results in chart and graph formats on the user's computer screen.
The pedometer measures steps, aerobic movement, minutes of walking, distance walked, and calories burned. Dual sensor technology allows it to be worn or carried in a pocket or bag. It can display the most recent 9 days' worth of exercise data, while a full 41 days of data are stored to be transferred to the PC using the standard USB cable included with the kit.
The blood pressure monitor measures blood pressure and pulse, displaying data from the last 90 measurements. When readings from the blood pressure monitor are uploaded to the software program, the user can view trends over time. A morning/evening comparison feature displays differences in systolic and diastolic blood pressure and heart rate.
Loren Timmons, Director of Marketing at QuickMedical said, "The HEM790IT blood pressure monitor includes a ComFit cuff that uses Omron's patented IntelliSense technology. IntelliSense automatically inflates the blood pressure cuff to the ideal level with each use, eliminating the need to repeatedly adjust the inflation level for effectiveness. The ComFit cuff is designed to fit regular and large arms, from 9 inches to 17 inches in circumference."
The pocket pedometer includes three Sony CR2032 batteries, a USB cable, and Omron Health Management Software. The blood pressure monitor includes four AA batteries and an AC adapter. The software is compatible with Microsoft Windows 2000 Professional Edition, Windows XP Home Edition, or Windows XP Professional Edition running on a PC with a 600 MHz or higher Pentium-compatible CPU.
About QuickMedical:
With great pricing, QuickMedical® has the professional medical equipment needed by health care providers. Look for diagnostic equipment, exam tables, weighing and measuring devices, and medical basics such as stethoscopes, thermometers, and sphygmomanometers. QuickMedical® also offers a wide selection of professional medical supplies; everything from patient care, to blood testing, to exam room products. At QuickMedical you'll find affordable disposables and medical supplies for the clinic, hospital, or home care environment.
# # #