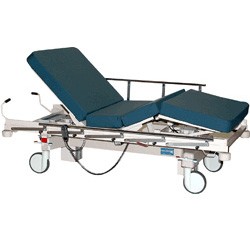 86% of adults in the United States could be overweight by the year 2030.
Issaquah, WA (PRWEB) September 08, 2011
America is facing an obesity epidemic. A research team at John Hopkins University predicted that 86% of adults in the United States could be overweight by the year 2030.
The increased need for bariatric equipment will continue to be a growing necessity in all healthcare settings: rehabilitation centers, hospitals, long-term and home care facilities.
QuickMedical foresaw the need to provide healthcare professionals with the highest quality bariatric care medical equipment. With the complete line of Gendron medical equipment, QuickMedical can now offer (through lease or purchase) access to the latest in bariatric care medical equipment
Healthcare professionals are caring for heavier and larger patients, and therefore are subject to injury. Healthcare professionals who must provide personal care, mobility and activities for all clients are now faced with a number of new patient care issues. What must professionals do to provide services to the bariatric patient? What is the cost? What can be done to improve the patient care situation for this population?
"Our goal is to provide medical equipment that is specially tailored and designed for the bariatric patient," said Scott Hanna, CEO at QuickMedical. "Healthcare staff and the facilities they work for must be proactive and have a strategy to meet the special needs of the morbidly obese patient."
A number of studies have suggested that a no-lift environment is possible with the right planning and equipment; QuickMedical and Gendron can help with both the planning and the equipment.
Further, there is an overwhelming amount of evidence that suggests a higher number of back-injury claims are filed by provides who care for the bariatric patient.
There is now equipment designed specifically for the overweight patient that can make it easier and safer for the healthcare provider. Lifts, beds, wheel chairs and support equipment that can accommodate from 300 to over 1000 pounds make it safer and much easier in ambulating heavy patients.
"The data suggests, we're all getting larger," said Steve Cotter, president of Gendron. "It is imperative that we make sure the healthcare professional has the right tools to seat and move people who are morbidly obese."
About QuickMedical:
With great pricing, QuickMedical® has the professional medical equipment needed by health care providers. Look for diagnostic equipment, exam tables, weighing and measuring devices, and medical basics such as stethoscopes, thermometers, and sphygmomanometers. QuickMedical® also offers a wide selection of professional medical supplies; everything from patient care, to blood testing, to exam room products. At QuickMedical you'll find affordable QM-Elite disposables and medical supplies for the clinic, hospital, industry, or home care environment.
# # #