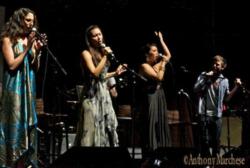 New York, NY (PRWEB) September 07, 2011
About NYC Playing For Change Day Kickoff Concert: PFC NYC (Alisha Zalkin, Brooke Ishibashi, Devyn Rush, Nick Moran, Or Matias, Noah Kaplan, Gavin Price and Nora Bass) is a group of NYC's brightest up and coming singer-songwriters. Collectively they have performed and recorded with Deborah Gibson, Paul Shaffer, The Shirelles, Trans-Siberian Orchestra and more. This 60-minute acoustic set will feature the music of Oasis, Carole King, Ben Folds, Janet Jackson, Queen and more, backed by a full house band.
http://www.playingforchangenyc.tumblr.com
http://www.facebook.com/playingforchangenyc
About Playing For Change Day:
The 1st Annual Playing For Change Day, September 17, 2011, is a global day of action where musicians of all varieties perform on stages, cafés, city squares, and street corners worldwide, raising money to bring music into the lives of young people. This year's event carries the theme "Power to the People," drawing its inspiration from the spirit of John Lennon's activism, thanks to the gracious support of Playing For Change's mission by Theatre Within and Yoko Ono. Proceeds raised will support the work of the Playing For Change Foundation and Theatre Within – to help build music schools, strengthen music and arts education, support teachers and performances, purchase instruments, and connect schools to promote cross-cultural learning and conflict resolution. Play a Song. Change the World.
http://www.playingforchangeday.com
About Playing For Change Foundation:
The Playing For Change Foundation is a 501(c)(3) non-profit organization dedicated to creating positive social change through music education. We are driven by the belief that peace and change are possible through the universal language of music. By providing children a safe place to learn, flourish and express themselves, PFCF programs provide a creative alternative to the struggles many children face daily.
To date, seven music schools and programs have been created in countries including South Africa, Ghana, Mali, Rwanda, and Nepal. Each offers students the mentorship and guidance they need to grow and thrive through interactions with other students, schools, teachers, and musical cultures.
http://www.playingforchange.org
NYC Playing For Change Day Kickoff Concert, Saturday September 17, 2011 at 12:00PM. Doors open at 11:15AM. General seating: $15, VIP seating (PFC gift bag included): $30. City Winery is located at 155 Varick Street, New York, NY 10013. (212) 608-0555. All Ages/Full menu available. Advance tickets available at: http://www.citywinery.com.
Contact: playingforchangenyc(at)gmail(dot)com
###