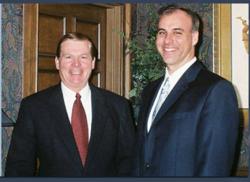 At the seminar...we will discuss many of the pros and cons associated with the new DUI Interlock laws.
Memphis, Tennessee (PRWEB) September 08, 2011
The Memphis, TN firm of Brannon Law recently announced a new seminar, which is designed to inform and educate the public about DUI Interlock devices.
The seminar is sponsored by the National Bar Association and will be held on September 23, 2011. The DUI Interlock Seminar will offer information designed to cover Tennessee's new Interlock Law and its effect on DUI clients.
"At the seminar we will be dissecting the new DUI Interlock laws and explaining the different circumstances when each will apply," explains Robert Brannon, Jr. "We will also discuss many of the pros and cons associated with the new DUI Interlock laws."
The Memphis DUI defense attorneys of The Brannon Law Firm have developed a reputation for maintaining high ethical standards while aggressively representing clients throughout Tennessee in many DUI cases.
About the Firm
After an arrest, a defendant's life, liberty and reputation are at stake in the forthcoming criminal prosecution. At The Brannon Law Firm, attorneys work hard to prove a client's innocence or, alternatively, to minimize the consequences a client may be facing. Attorneys at Brannon Law Firm offer legal counsel primarily in the following areas:

DUI
Criminal Defense
Drug Crime
Serving clients in Memphis, Tennessee, The Brannon Law firm is dedicated to protecting the rights of individuals. The new website explains each practice area offered by the firm in greater detail. It also shares biographical information about the individual lawyer's backgrounds.
Worried about DUI? The Brannon Law Firm wants to discuss your defense options in a free consultation. Call us toll free at (888) 540-4644 or type a note in our contact page. When we meet by phone or in the office, our attorneys begin gathering and analyzing the evidence against you. We offer solutions to your problems and are ready to fight for your rights, your liberty, and your future.
###