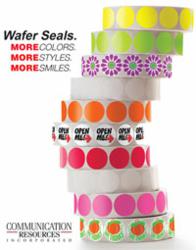 Canton, OH (PRWEB) September 20, 2011
Communication Resources, Inc. announced today the release of their new line of Color, Limited Edition and Print-Your-Own Wafer Seals, designed to help churches meet United States Postal Service (USPS) regulations and to have some fun while they're at it.
In September of 2009 the USPS released new standards for booklets and folded self-mailers, commonly used by churches for mailing newsletters. Most churches qualify as a nonprofit organization, which offers the opportunity to receive even lower rates — but only if the new regulations are complied with. One of the new standards to qualify for special automation rates is the use of three 1.5-inch seals when closing the booklets.
The goals of Communication Resources, Inc. with their line of Wafer Seals are to help churches seal their newsletters correctly, to minimize the impact on their budget and to help them have some fun in the process.
The Wafer Seals are made with superior "milk-jug" adhesive that blends strength and ease of opening. "A single seal can actually hold a jar of peanut butter in the air. Yes, we tried it," said Katie Barratt, managing editor for Communication Resources, Inc. "And while we were cooking up these new seals, we asked ourselves how we could spice them up. The result? Better-sticking Wafer Seals in fun new colors and limited-edition designs. We can't explain it fully, but when we first saw them, we smiled. We think churches will too."
The new 1.5-inch seal color lineup, available at http://www.comresources.com/WaferSeals, includes Cherry, Banana, Lime, Bubble Gum, and Orange. The limited-edition designs include a Purple Mum and a "Give Thanks" seal with an orange pumpkin graphic. They are designed to help churches get noticed in a sea of mail and add visual impact to their newsletter over the Thanksgiving holiday. The remaining limited edition seal has a red arrow graphic and says "Open Me". "In addition to adding some fun to the newsletter, we're hoping this seal will help to improve the open rate and readership of church newsletters," said Katie Barratt.
The third Wafer Seals product line launched by Communication Resources, Inc., Print-Your-Own Wafer Seals, is offered at a much lower price than the "big box" stores. These 1.5-inch seals come in a package of 30 sheets, with 900 sheets per package. The seals are designed for churches who want to customize seals with their own artwork or messaging. They also serve as a solution for the smaller church that doesn't need a larger roll of 3,000 seals – costing just $9.95 per package. For those who want to spice up their mailings but aren't sure how, Communication Resources, Inc. offers free templates at http://www.comresources.com/templates.
"Now, not only are1.5-inch mailing seals a necessity for many churches - they're just plain fun," says Katie.
For more information visit http://www.comresources.com/WaferSeals.
About Communication Resources, Inc.:
As a leading publisher of ministry resources, Communication Resources, Inc. produces newsletters, church-specific images, website materials, bulletins, pastoral materials, curriculum and more. Its top-selling products include Children's Worship Bulletins, Homiletics Online, ChurchArt Online and Instant Church Directory. All these resources are available from the company's online store at http://www.ComResources.com.
Contact:
Katie Barratt, Managing Editor
Communication Resources, Inc.
800-992-2144
http://www.ComResources.com
###