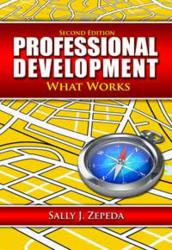 Zepeda provides a road map for schools looking to move forward on the professional development journey.
Larchmont, NY (PRWEB) September 08, 2011
Drawing from her experiences both as a high school teacher and as a K-12 administrator, professional development expert Sally Zepeda has written Professional Development: What Works, 2nd Edition, published by Eye On Education.
The book serves as a road map for schools looking to move forward on the professional development journey. Professional Development: What Works, 2nd Edition is written for principals, directors of professional development, and school and district committees who are looking to turn ideas into action. The author addresses the topics of learning communities, job-embedded learning, coaching, teacher study groups, critical friends, lesson study, and portfolios. Zepeda provides case studies, forms and templates, and sample agendas as further resources.
A recognized speaker and widely known consultant on this very topic, Zepeda understands that students are not the only ones learning in the classroom. "As the most valuable resource in our schools, teachers need opportunities to learn from the work they do in the classroom. They need opportunities to learn in the company of others, and they need time to discuss, reflect, and build strategies to strengthen their instruction. If embedded into the workday and grounded in the very work teachers do, professional development can transform adult learning," says Zepeda.
Will the author's advice hold water in the constantly changing landscape that is education today? Eye On Education President Robert Sickles believes that Zepeda's guidance is not only up-to-date, but especially relevant to current standards. "Sally provides administrators with a great opportunity to see how the newly revised Learning Forward Standards for Professional Learning can be applied to their schools to improve teaching and leadership," says Sickles.
Sally J. Zepeda is currently a professor in the Educational Administration and Policy Program in the Department of Lifelong Education, Administration, and Policy at the University of Georgia where she teaches courses on instructional supervision, professional development, teacher evaluation, and school improvement. In 2011, she received the Distinguished Research Mentor Award from the University of Georgia. Having authored and co-authored more than 15 books, Zepeda writes on the topics of instructional leadership and the supervision and evaluation of teaching. Zepeda also consults internationally.
About Eye On Education
Founded in 1992, Eye On Education is an independent and innovative provider of books and other resources for teachers, principals, and administrators. Its mission is to provide busy educators with practical information on professional development, educational leadership, school improvement, student assessment, data analysis, teaching skills, and other related topics.
Contact:
Erin Carreiro, Marketing Department
carreiro(at)eyeoneducation(dot)com
(888) 299-5350
###