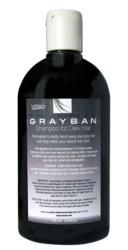 Coloring or dying hair via salon or traditional methods is not on pace with demand, costs, and request for ease of use. GrayBan Shampoo is poised to meet the demands of an affordable, natural, and easy to use solution
Cold Springs, NY (PRWEB) September 09, 2011
Atlantic Horizon, distributor of the popular gray hair remover GrayBan announced today the launch of GrayBan Shampoo. The new shampoo cleanses and conditions and works to restore a melanin-like protein back into the hair follicles to gradually restore original hair color.
GrayBan Spray has an already dedicated fan-based who have long been asking for a shampoo to be used along side the spray. Two years of research and development went into finding the right GrayBan formulation to allow for the proper levels of cleansing and conditioning without altering the effects of the hair-color restoration process.
"After receiving countless requests for a shampoo version of GrayBan, we looked at the best way to offer the ease of a shampoo product with the effectiveness of the spray. Though both products will remove gray hair when used individually, the maximum benefit is reached combining the two," states Atlantic Horizon CEO, Robert Ferreira. "GrayBan Spray was just recently reformulated to start working in as little as three days, now with GrayBan Shampoo you can cleanse, condition, and receive a concentrated level of hair-color restoration that you just didn't have before."
Aging causes the loss of melanin, the protein responsible for providing color to skin and hair. GrayBan Shampoo is not a dye. Instead it works to restore a melanin-like protein back into hair cells to restore the hair's natural hair color. Because GrayBan restores original hair color gradually, the appeal of this product to so many is that hair never appears harshly dyed or unnatural.
"We expect to fulfill a void in natural hair-color restoration market that has long been missing. With an increasing aging population, the economy and environmental factors, demand for reducing and removing gray hair has increased tremendously. Coloring or dying hair via salon or traditional methods is not on pace with demand, costs, and request for ease of use. GrayBan Shampoo is poised to meet the demands of an affordable, natural, and easy to use solution. We're very proud of this new product," claims Mr. Ferreira.
About Atlanic Horizon, Inc
Founded in 1998, Atlantic Horizon International, Inc. is a New York based company specializing in the development, manufacturing, sourcing, and marketing of innovative products that improve our lives and the way in which we live them. Our products are proprietary and exclusive to us and can only be purchased via our consumer web site Verseo.com or one of our selected distributors.
###