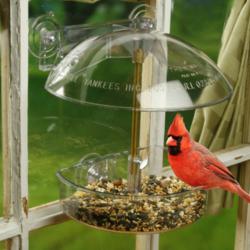 Clarence, New York (PRWEB) September 13, 2011
Window bird feeders are a wonderful way to see the true beauty of birds up close this fall. Feather colors, eating habits, and the interaction of birds creates a dynamic viewing experience of Blue Jays, Northern Cardinals, Chickadees, Goldfinches, Nut Hatches, Tufted Titmice, Woodpeckers, Pine Siskins, Redpolls, and other Finches. Even seasonal birds such as Hummingbirds and Grosbeaks will come to window bird feeders.
Window bird feeders are convenient to fill and clean, great for kids and seniors who sometimes have a hard time walking to replenish traditional feeders. They offer hours of entertainment for pets (pet TV) and offer an alternative for areas that do not allow traditional feeders.
Window bird feeders come in a variety of styles. Those with suction cups adhere to almost any window and can be located anywhere in your home or office. Others are designed for single or double hung windows, casement windows, bay windows and sliding glass doors/decks. After a while, birds get familiar with activity inside the house and eat more naturally. Some window feeders also have mirrors that allow viewing birds without them viewing you. USABirdSupply.com offers a variety of window feeders.
Dining areas are a great location for window bird feeders. Birds feeding habits are similar to humans and they eat most frequently in early morning, lunch time and early evening. Window strikes are often a problem with east/west feeder placement due to reflections that cause the bird to fly into the window, or they may think it is another bird and attempt to attack. Using window alerts, which have a see-through pattern that adheres to the window will help avoid window strikes as well as curtains or alternative placement.
Attract specific types of birds to window bird feeders with different types of food. Suet window feeders will attract woodpeckers while sunflower will attract most birds and thistle/nyjer will attract finches, siskins and red polls. To avoid house sparrows, starlings and cowbirds avoid grains used in mixes—corn, milo, red millet, oats, wheat and canary seed. Jays prefer peanuts (but then so do squirrels). Sunflower and nyjer will attract most birds.
USABirdSupply.com is Located in Clarence, NY Outside Buffalo And Offers Over 1100 Bird Products Including Bird Feeders, Bird Houses, Bird Baths, Martin Houses, Garden Art, Bat & Owl Houses, Garden Flags, Butterfly Feeders and Live Mason Bees.
# # #